What's A Constitutional Crisis, And Are We Headed For One Over Trump's Travel Ban?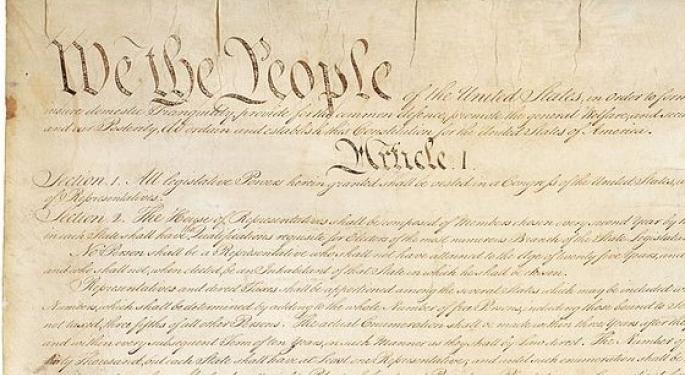 Legal experts are having a field day debating whether President Donald Trump has plunged the United States into a "Constitutional crisis," a loaded term but a somewhat elusive concept.
To many people, explaining the concept might as well be embodied by paraphrasing the late Supreme Court Justice Potter Stewart's view of pornography: "I know it when I see it."
The Trump travel ban on people from select Muslim nations is one instance in which the president is at odds with federal courts, leading some commentators to label the issue — which may well wind up before the Supreme Court — as a Constitutional crisis.
Furthermore, others contend Trump's ownership of commercial properties abroad violates a little-known prohibition in the Constitution.
That's just for starters.
Tip Of The Iceberg
"In mere months, Trump has already embraced policies that threaten basic individual rights, the structure of government, and the foundations of our democratic society. We've even had to learn words new to most of us — like 'emoluments' — to grasp the full scope of his illegal conduct," wrote Laurence Tribe, a professor of Constitutional law at Harvard Law School, in an email.
Trump owns properties in Istanbul, Bali, Toronto, Baku, Mumbai, Batumi, Dubai and other places, which some legal experts say fall into the category of "emoluments." Tribe is co-counsel for Citizens for Responsibility and Ethics in Washington, a liberal government watchdog organization, which in January filed a federal suit charging that Trump violated a Constitutional clause forbidding "emoluments or presents" from foreign governments."
Merriam-Webster describes emoluments as "the returns arising from office or employment usually in the form of compensation or perquisites."
There was a brief debate about whether former President Barack Obama violated the clause — in Article I, Section 9 of the Constitution — when he accepted the Nobel Peace Prize in 2009. The Justice Department ruled that was OK. The actual law was put into effect after Benjamin Franklin accepted a diamond-encrusted snuff box from King Louis XVI.
The term "Constitutional crisis" also has been bandied about in the wake of Trump's travel bans targeting citizens from at first seven, and now six predominantly Muslim nations, executive orders that have been blocked by federal judges in various jurisdictions.
Trump's Retort; Others' Agreements
The Trump administration has said both the emoluments clause and the travel ban aren't enough to use the deadly double-C word, and some commentators agree. "These are unusual times to be sure, but we are not to my mind in or on the verge of a constitutional crisis," Vikram David Amar, dean of the University of Illinois College of Law, said in an interview with the university's News Bureau.
The blog FiveThirtyEight listed four types of crises "and which ones are most likely to come up during Trump's presidency." They were:
The Constitution is vague or unclear on a matter. It didn't say what to do when William Henry Harrison became the first president to die in office in 1841. Vice President John Tyler took over, but the formality of succession wasn't made an amendment until 1967.
The Constitution is open to dispute (See: Civil War).
The Constitutional solution isn't politically feasible. Gore v. Bush could have been decided by the U.S. House, but nobody wanted to go there after the backlash that ensued when the House chose John Quincy Adams in 1824.
Institutions fail. This sort of crisis was cited when many border and customs agents ignored court orders to stop detentions and deportations under Trump's travel ban.
The nature of Constitutional crises is nothing new. Even before Trump's election, the GOP-controlled Congress' refusal to let Obama replace the late Supreme Court Justice Antonin Scalia led to a chorus of crisis calls. The New Yorker weighed in with a sort of bird-watching guide called "How to Recognize A Constitutional Crisis," last year when Scalia died and the GOP-controlled Congress refused to consider Obama's pick for a replacement.
The magazine applied the smell test and declared that Watergate and Bush v. Gore were obvious examples. But others say many such crises are actually the Constitution working its checks-and-balances mojo, regardless of how messy and fraught with anxiety the process seems.
By that meaning, it could be argued that the only real Constitutional crisis occurred during the American Civil War, when a country as we know it was plunged into one of the bloodiest wars in history.
"The Civil War was one such crisis, while Watergate and the resignation of President Richard Nixon were not. The process of resolving the latter was messy, but the constitutional system worked as designed," Amar said in an opinion piece in Newsweek.
Related Link:
How Odds Of Trump's Impeachment Have Changed
SCOTUS Discusses Facebook, Twitter As Constitutional Rights
_______
Image Credit: By Constitutional Convention - U.S. National Archives and Records Administration, Public Domain, via Wikimedia Commons
View Comments and Join the Discussion!
Posted-In: Antonin Scalia Barack Obama Citizens for Responsibility and Ethics ConstitutionPolitics Media Trading Ideas General Best of Benzinga