Businesses Will Be Impacted By Trumpcare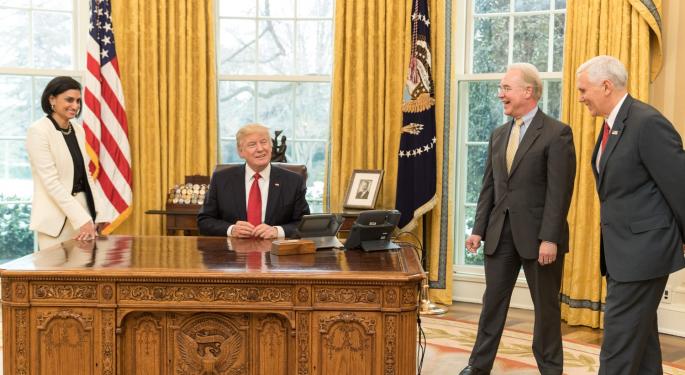 Republicans have proposed to repeal the Affordable Care Act, colloquially known as "Obamacare," and are seeking approval for the new GOP healthcare bill dubbed Trumpcare.
President Donald Trump has proposed significant tax cuts to reduce healthcare expense, with Medicaid expected to bear most of the brunt.
In addition, how employers use self-insurance under the Employee Retirement Income Security Act (ERISA) will have a change under Trumpcare, which proposes fewer regulations and reporting requirements.
As it stands now, many small and midsize companies are using a self-insurance platform due to lower premiums and co-payments. According to the Employee Benefit Research Institute, more than 60 percent of the nation's health-plan-covered workers are enrolled in this model.
Emphasis On Technology
Trumpcare will require healthcare providers to embrace expensive technology and will favor accelerated innovation, including gene therapies and population analytics.
In such a scenario, businesses offering services such as revenue cycle management, outcome data measurement would gain more prominence.
Tanning Industry
The tanning industry will be one of the businesses that would be a beneficiary of the potential repeal of Obamacare, which put a 10 percent excise tax on indoor tanning services.
A New York Times report said Republicans proposed to repeal the ACA and would abolish the tanning tax, along with an array of other taxes imposed to help finance expanded health insurance coverage.
Under the Obama administration, the federal government and states sought to deter the use of tanning beds by young people in particular, citing evidence that it causes skin cancer.
Other Beneficiaries
Further, Durable Medical Equipment (DME) and Medical Devices sector could shine under Trumpcare, with the likelihood of a rollback on medical device taxes.
Meanwhile, Ambulatory Surgery Centers and Physician Services are likely to benefit due to higher amount of reimbursements. The positive environment could also spur M&As within the sector.
Related Link:
Breaking Down Trump's 'Skinny Budget'
Trump: I'm Going To Bring Down Drug Prices
____
Image Credit: "President Donald Trump shares a laugh with (clockwise from left) Ms. Seema Verma, Administrator of the Centers for Medicare and Medicaid Services, Secretary Tom Price, U.S. Secretary of Health and Human Services, and Vice President Mike Pence on Tuesday, March 14, 2017, in the Oval Office of the White House. Ms. Verma was sworn in as the Administrator earlier in the afternoon by Vice President Pence." By Shealah Craighead - Photo of the Day: March 15, 2017 on whitehouse.gov, Public Domain, via Wikimedia Commons
Posted-In: ACA Affordable Care ActNews Health Care Politics Media Personal Finance General Best of Benzinga
View Comments and Join the Discussion!