Response To GOP Healthcare Bill Ranges From Tepid Support To Outright Opposition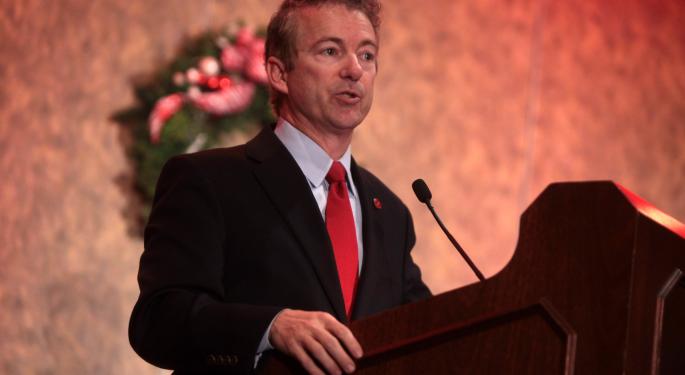 The Republicans' new healthcare bill, dubbed "Trumpcare," "Republicare" and even "Obamacare lite," is the latest hotly contested topic out of Washington.
Benzinga had the opportunity to chat with Kristine Grow, a spokeswoman for American Health Insurance Plans, which is the industry organization speaking for major insurers like Humana Inc (NYSE: HUM) and Anthem Inc (NYSE: ANTM).
Reaction To The Latest Proposal
According to Grow, the latest healthcare bill contains "many essential provisions" that could stabilize the individual market in 2018 and also during a transition to a new market.
Grow added that her organization is looking forward to working with Congress to improve on the approach to make sure that all consumers, especially low-income families, have access to affordable coverage options.
Lots Of Support Needed
Grow's response suggests that the healthcare bill needs improvements in at least one key area: making sure those with low incomes have access to healthcare.
Senator Rand Paul (R–KY) is among one of the few Republican Senators who isn't expected to support the bill in its current form.
"It keeps the ObamaCare taxes for a year," Paul told Fox News. "Then [it] keeps the Cadillac tax forever; [it] keeps the ObamaCare subsidies, but renames them tax credits; [it] keeps the individual mandate, but you don't pay the government the penalty, you've got to pay the insurance company [...] That's the very definition of ObamaCare Lite."
Nevertheless, President Donald Trump remains confident he can deliver on a healthcare plan that works for all.
"Despite what you hear in the press, healthcare is coming along great," the president tweeted Thursday. "We are talking to many groups and it will end in a beautiful picture!"
Despite what you hear in the press, healthcare is coming along great. We are talking to many groups and it will end in a beautiful picture!

— President Trump (@POTUS) March 9, 2017
Nancy Pelosi's Statement
House Minority Leader Nancy Pelosi (D–Calif.) is naturally opposed to the bill and released a statement Thursday.
Pelosi cited estimates from the Brookings Institution, which suggests 15 million Americans might lose their coverage under the Republican bill, which she describes as "Pay More For Less."
"Between the Millennial Penalty and the Age Tax, Republicans plan to force young and old to pay more for less in their health care," her statement read. "Families across America are going to be pushed off their health coverage just so Republicans can hand a huge tax break to billionaires."
See Also: Heartland Institute Experts React to GOP Obamacare Reform Bill
See Also: The Nation's Mayors Express Serious Concern Over GOP Replacement Healthcare Bill
_______
Image Credit: U.S. Senator Rand Paul speaking at the 2014 Boone County Republican Party Christmas Gala, By Gage Skidmore from Peoria, AZ, United States of America - Rand Paul, CC BY-SA 2.0, via Wikimedia Commons
Posted-In: American Health Insurance PlansNews Health Care Politics Topics Legal Media General Best of Benzinga
View Comments and Join the Discussion!