How To Be Sure Your Donation Dollars Reach Their Destination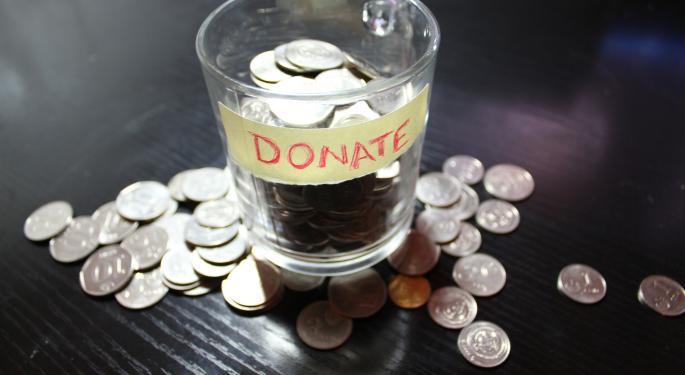 "It is more blessed to give than to receive. —Acts 20:35
Those who count themselves among the blessed just because they give charitably may have to do some serious investigation as well as introspection.
A recent federal class action lawsuit by one of the donors to Paypal Holdings Inc (NASDAQ: PYPL)'s Giving Fund platform revealed donations through it did not reach the intended charities.
PayPal's Charity Woes
According to a New York Times report, Terry Kass, a retired lawyer, who donated in response to an e-mail solicitation from the company to donate to charities through its Giving Fund platform, found out later that most of the $3,700 she donated in total to 13 groups, mostly in her Chicago suburb, did not reach the intended parties.
Kass clarified that all 13 groups she shortlisted had a profile page on PayPal's site, with biographic information and mission statements. Kass learned that at least 10 of the 13 parties were not aware of the donations made. She clarified that she was influenced by the company's claims in the promotional e-mail that it would waive the usual transactional fees and give an additional 1 percent to the selected charities for gifts made by year's end.
No Account, No Funding
The development could be explained by a point listed under frequently asked questions section of the Giving Fund's site, which states that organizations not enrolled will be informed of the donations and be given at least six months to register accounts to claim the gifts. Otherwise, PayPal's Giving Fund may reassign the accrued funds to another charitable organization.
The New York Times report stated that PayPal processed $7.3 billion in contributions last year.
Company Claims No Wrong Doing
Responding to the lawsuit filed in the Federal District Court of Northern Illinois, PayPal said, "We are disappointed by the lawsuit, and we are fully prepared to defend ourselves vigorously."
If the lawsuit finds PayPal guilty, donors might be circumspect in the future, given that a public company of the stature of PayPal was resorting to practices that seriously impairs confidence vested in it by the donors.
From the donor's end, what can be done to ensure donations end up with charities who work for causes donors actually empathize with?
James Altucher suggested a few tips in a blog post of his:
Altucher suggests donating directly into the situation, where there are no layers of bureaucracy. Micro-causes fit the bill for such kind of donations. This will help you know how much of your donation is being used and who is being helped.
Zero in on needs that crave immediate attention.
Research and ascertain that all or at least a majority of your donation goes toward helping the needy and not on administrative overheads or marketing costs to promote the organization.
Always be an anonymous donor so that you don't get entangled in any legal issues.
For your charity to be a win-win for both parties, donate to tax-exempt organizations or those which are qualified charities.
Related Links:
Posted-In: charitable giving CharityNews Education Legal Tech Media General Best of Benzinga
View Comments and Join the Discussion!