Buffett Seeking To Turn 1131% Profit On Laguna Beach Home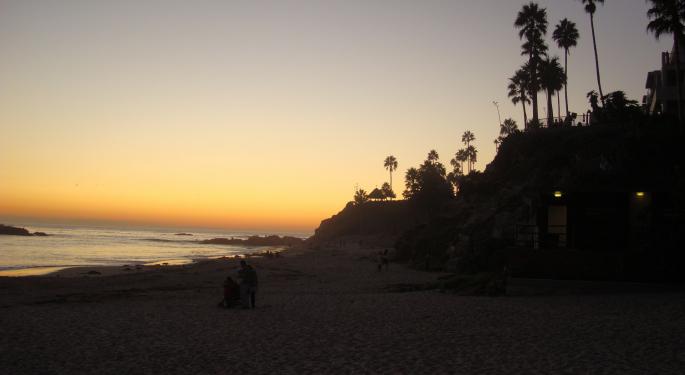 Has Warren Buffett ever made a bad investment?
The Oracle of Omaha recently listed his oceanview home in Laguna Beach for sale at $11 million.
The 3,588-square-foot home was built in 1936 and was purchased by Buffett in 1971 for $150,000. If the legendary investor fetches his list price, he will achieve an 1131 percent return on investment, not bad for one of the best investors of all time.
The home, which has been renovated under Buffett's ownership, boasts five bedrooms and seven bathrooms, and has several ocean-facing decks that extend the living space outdoors.
Related Link: America's 5 Most Expensive Homes
Still, the house is quite modest considered Buffett is worth $74 billion, although he does have a history of owning modest possessions. Buffett still lives in his Omaha, Nebraska, home that he purchased in 1958 for $31,500.
Some Of Buffett's Best Investments
The gains Buffett will realize on his Laguna Beach home pales in comparison to returns on his Berkshire Hathaway Inc. (NYSE: BRK-A) (NYSE: BRK-B) stock, however, which has produced unheard of results, up over 87568 percent since 1980.
In 2002–2003 Buffett purchased a 1.3 percent stake in China's dominant oil company, PetroChina Company Limited (ADR) (NYSE: PTR). Five years later he sold his stake after a 720 percent gain and a $3.6 billion profit.
On the advice of Buffett's longtime business partner Charlie Munger, he purchased a 10 percent stake in Chinese car battery company BYD Unsp ADR-H (OTC: BYDDY) for $230 million. The stake in BYD is still held by Buffett, the company now has a market cap of over $128 billion.
View Comments and Join the Discussion!
Posted-In: Charlie Munger Warren BuffettNews Real Estate Best of Benzinga