Cannabis Industry Expert Talks Cultivation Licenses In Canada And Maturation Of Capital Markets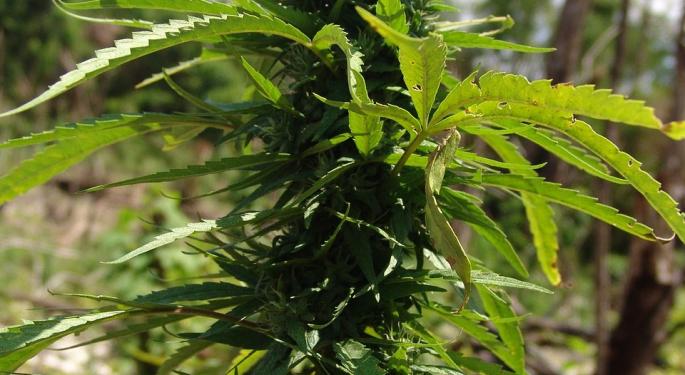 Every week, Viridian Capital Advisors analyst Harrison Phillips walks us through some of the most notable transactions in the legal marijuana industry. During our latest conversation, the expert shared a look at some very interesting deals that supported the hypothesis of increasing capital markets support in the cannabis industry, while showing aggregation and the development of non-stoner brands as part of a more synergistic approach to the weed business.
In this second part of the article, we'll look into some other notable transactions seen last week in the cannabis industry.
Invest in IPO shares before the stock hits the market with ClickIPO. Check it out here
Note: All quotes are from Harrison Phillips, and related to the Viridian Cannabis Deal Tracker for the week ended February 10.
Related Link: Marijuana Stocks Go On Reversal Mode After 8 Weeks Of Gains: Cannabis Index Down From 52-Week High
Notable Transactions
Zynerba Pharmaceuticals Inc (NASDAQ: ZYNE) announced the full exercise of its underwriters' option to purchase additional shares. Transaction was expected to close over this week.
"Again, this shows support from the capital markets."
Aphria Inc (OTC: APHQF) announced C$50 million ($38.14 million) bought deal.
"We are seeing another Canadian LP raise quite a significant amount of money there."
Aphria received conditional approval to uplist to the TSX.
"Slowly and steadily we are seeing the maturation of these capital markets. Private companies are going public to get additional exposure and financing, and some companies that are already listed are looking to move to more prestigious and higher level exchanges for a variety of reasons."
The Green Organic Dutchman Holdings Ltd. announced a $10 million non-brokered financing.
iAnthus Capital and The Green Solution entered into a strategic partnership and credit facility that included a bought deal private placement of convertible debentures. It had an original size of C$15 million, but was rapidly increased to C$20 million ($15.26 million).
High Hampton (CNSX: HC) announced the acquisition of CoachellaGro Corp. and C$5 million ($3.8 million) concurrent financing.
"This deal is not closed yet, but it's an example of a US-based group, CoachellaGro Corp, going public on the Canadian markets [...] following the trend seen in past weeks. Canada's national medical system lends itself to much more favorable financing."
One To Watch
Invictus MD (OTC: IVITF) is raising about C$15 million as well.
"These Canadian investment and M&A firms are raising capital to make acquisitions and develop strategic relationships and really scale up their operations, and have a pool of capital to make their investments and acquisitions with."
"INCC has received an institutional commitment for marijuana based real estate debt financing."
"I think the caveat under this is, if INCC can raise $100 million in equity, this group will provide $200 million in debt to help them lever up that investment. So, this will be one of the first time we've seen such a large publicly-announced real estate debt financing in the space. Typically, people go to banks, put down a deposit, and get a mortgage on the investment. But, as mortgages aren't utilized in the cannabis space as of yet — It will be interesting to see how this develops, to see if there's real institutional commitment coming in."
In addition, Invictus made two other investment/acquisition announcements.
"One [of these announcements] is following another trend we've been seeing where, due to the lengthy and capital intensive process of getting through Health Canada's approval system, we've seen a lot more investment into, and acquisitions of, companies that are 'late stage applicants.' You see here that Invictus announced a binding LOI to acquire 100 percent of a late-stage applicant under Health Canada's rules. [Also in this line was Valens' announcement discussed in Part 1 of the article].
"Valens is a post-inspection applicant for cannabis cultivation and processing and also just raised C$500,000. So, we're seeing additional interest in these later stage applicants, just due to the fact that it is hard to get these licenses, but it does seem that — such a value is given to existing Canadian licenses that investors and other groups are looking to these potential licensees, where they could get in at a more attractive price."
Cannabis Licenses In Canada
Finally, Benzinga asked about licenses in Canada. There are currently less than 40 licenses awarded, and experts tend to believe that there won't be many more ahead.
"We've heard a lot of hearsay about what people expect the Canadian market to do in the long-term. But, for the most part, we don't believe that they'll give any more than 75 or 100 licenses total. So, we're anywhere between 1/3 and half of the way through issuing these licenses. So, there is going to be quite a bit of value to those as there's a limited market," Phillips commented.
"It will be interesting to see if this trend where investors are targeting these later-stage applicants continues, or if they are going to kind of jump on board and invest in Canopy Growth Corp (OTC: TWMJF) or some of the other big players," he concluded.
Posted-In: Cannabis M&A News Emerging Markets Financing Offerings Politics Topics Best of Benzinga
View Comments and Join the Discussion!