Which Conference Has The Most Overpaid Starting 5 In The NBA?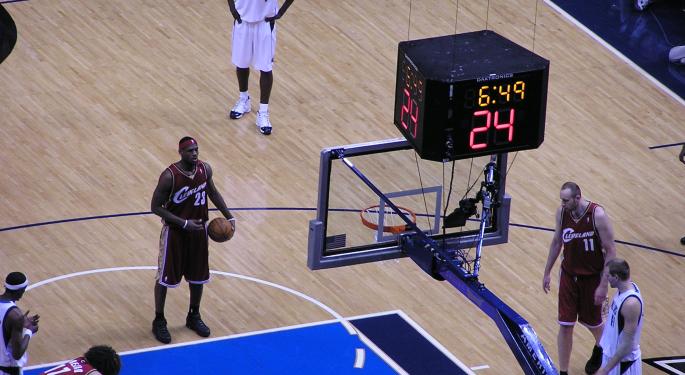 Nearly $466.2 million in talent will compete in Sunday's 2017 NBA All-Star game.
However, this figure includes only six of the league's 10 highest salaries. Mike Conley (No. 2), Al Horford (No. 5), Dirk Nowitzki (No. 8) and Damian Lillard (No. 10) were relegated to box seats for the event.
And the players who supplanted the expensive names were pulled from a deep, deep bench.
The lowest paid All-Star, Giannis Antetokounmpo, is the 258th highest payed player out of 588 on the NBA's payroll. Antetokounmpo will only make $2,995,421 this season, representing just 9.7 percent of Eastern Conference teammate and top league earner LeBron James' salary ($30,963,450).
Related Link: Patriots Win Caps Most Thrilling Sports Championship Year Ever
Altogether, All-Star game starters will make an average of $20,063,662 this season — nearly four times the league's average.
Here is a list of the All-Star starters ranked by how much space they take up on their teams' $84,729,000 salary cap.
1. LeBron James, Cleveland Cavaliers (East): 36.5 percent
2. Jimmy Butler, Chicago Bulls (East): 20.7 percent
3. James Harden, Houston Rockets (West): 31.3 percent
4. Kevin Durant, Golden St. Warriors (West): 31.3 percent
5. DeMar DeRozan, Toronto Raptors (East): 31.3 percent
6. Anthony Davis, New Orleans Pelicans (West): 26.1 percent
7. Kawhi Leonard, San Antonio Spurs (West): 20.8 percent
8. Kyrie Irving, Cleveland Cavaliers (East): 20.8 percent
9. Stephen Curry, Golden St. Warriors (West): 14.3 percent
10. Giannis Antetokounmpo, Milwaukee Bucks (East): 3.5 percent
The teams' starting lineups boast of deadly — but pricey — shot precision. Throughout the season, Eastern Conference All-Stars earned about $14,195 per point, while Western Conference All-Star West players earned about $15,715 per point.
Image Credit: By David Herrera - http://flickr.com/photos/56181704@N00/471799008, CC BY 2.0, via Wikimedia Commons
View Comments and Join the Discussion!
Posted-In: 2017 NBA All-Star Game Cleveland Caveliers James Harden Kevin DurantNews Sports Events General Best of Benzinga