Top Moroccan Businessman Talks Return To African Union, Opportunities For Economic Expansion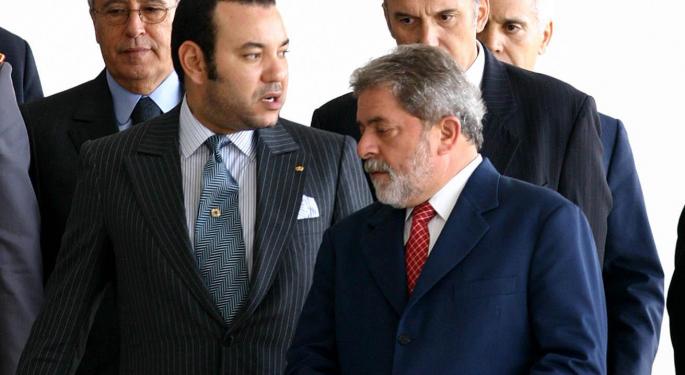 "[Morocco's] membership in the African Union [...] [is] the conclusion of a big process that has been led for many years." – Saâd Bendidi.
After more than three decades of absence, Morocco returned to the African Union (AU) in 2017. But, the return did not come without controversy. While most countries in the continental body supported Morocco's homecoming, some argued that readmission should only occur after the government recognized the sovereignty of Western Sahara — currently a disputed territory.
Looking for an insider perspective on the issue, Benzinga reached out to one of Morocco's top businessmen, Saâd Bendidi, who currently serves on the boards of some of the largest companies in the country.
Coming Home
"I am not an official. I can just report to you what I heard as a Moroccan citizen and as an African citizen," he began.
"Morocco left the predecessor of the African Union, that was the Organization of African Unity, 30 years ago, because this organization welcomed the membership of the so-called Arab Republic of Sahara. Morocco was upset that the organization was not in a position to welcome a non-recognized country as a full member of the organization," Bendidi explained.
However, the situation has evolved since, leading Morocco to re-join "the global African community represented in the African Union," he continued, pointing out that, while not a member, the country — and King Mohammed VI — had continued to strengthen bilateral relationships with many Sub-Saharan African countries.
The Opposition
"The votes were some 39 countries voting for positively on the welcoming of membership of Morocco and only 10 countries voting against it," Bendidi continued. "[Among those that voted against the return were] the so-called Sahara Republic, Algeria — its main sponsor — and South Africa and the countries where the South Africa Republic has some political influence. I would say Botswana, Malawi, Angola. All sorts of countries that are under a big influence from South Africa."
Economic Expansion
Several media outlets reported that, following its reincorporation to the AU, Morocco had signed several trade deals with numerous countries in Africa.
"Basically, the membership in the African Union would not induce new trade or investment agreements with other countries. It is, let's say, the conclusion of a big process that has been led for many years," Bendidi voiced.
Related Link: Marijuana Legislation Around The World; Who's Next?
In fact, over the past decade or so, Morocco not only signed bilateral agreements and regional agreements in West Africa, where there is an economic union and free trade zone, but also made "substantial and significant foreign direct investments there," he added.
Financials Were First
Morocco's expansion into West Africa began 15 years ago with the establishment of Moroccan banks in other countries in the region. The first ones to expand overseas were the three largest in the country: Attijariwafa Bank, BMCE Bank, and Banque Centrale Populaire.
They started in West and Central Africa. However, over the last three or four years, they also moved into countries in the East "and the countries in the Indian Ocean, like Mauritius, Madagascar, Tanzania and Kenya," Bendidi expounded.
"So, the first move has been from the financial sector and mainly banks. Then you had some insurance like the Saham Group [...] We are present today in 31 countries among the 52 countries that exist in Africa," he supplemented.
Construction & Energy Followed Suit
The businessman then moved on to the building and construction sector, another one that saw plenty of international expansion over the last few years. Interestingly, the case was similar for the energy and mining sectors, which witnessed plenty of cooperation in the region. This has been especially true for renewable energy projects, like Eolic and solar plants.
In addition, "there are utility projects, mainly in the Ivory Coast and Cameroon, where there is significant experience with Moroccan companies," he concluded.
Favorable Conditions
All of these initiatives made Morocco's international expansion easier, Bendidi went on. "Because the largest companies went there and the banks were there, you have some medium-sized companies that started to go there because they have some relationship with bigger companies and, for them, the risk assessment for doing business is [easiest] there."
Moreover, he mentioned, Sub-Saharan Africa offers some other important characteristics that incentivize business. There are a high number of French-speaking countries in West Africa, a single currency in Central Africa, free trade agreements and a unified commercial law.
"So, when you have to set up a company or you have some conflict resolution on the commercial side, you have a unified law," the expert pointed out. "So, having a single currency, a free trade zone, plus a single commercial, law helps the business community to start businesses and to expand, not only in one country but very quickly over a region."
The Casablanca Hub
Last, but not least, Bendidi highlighted, "Morocco took the opportunity to set up, I would say, a gateway to all these countries."
"I can mention at least two initiatives," he supplemented. "The first one is that the airline company [Royal Air Maroc] built a hub in Casablanca; you can reach most of the countries by daily flights from Casablanca [...] This really helped many multinational and international companies considering doing business in Africa."
"The second thing is that Morocco created a financial center where you can apply and have a license to set up a company. Whenever you are setting some business in order to expand in Africa, then you have some incentives and a tax holiday for quite a long period," he ended. "So, if you'd like to start some business, Casablanca is becoming more and more a good hub for starting a business because of these two factors."
Check back tomorrow for Part 2 of this interview. Where Bendidi goes into the impact of a Trump administration on U.S.–Morocco relations, the Saham Group and more.
Image Credit: "O presidente Luís Inácio Lula da Silva e o rei do Marrocos Mohammed VI em Brasília." By U. Dettmar/ABr - Agência Brasil [1], CC BY 3.0 br, via Wikimedia Commons
View Comments and Join the Discussion!
Posted-In: News Emerging Markets Entrepreneurship Emerging Market ETFs Politics Topics Events Global Best of Benzinga