Super Bowl LI Is Going To Be Very Political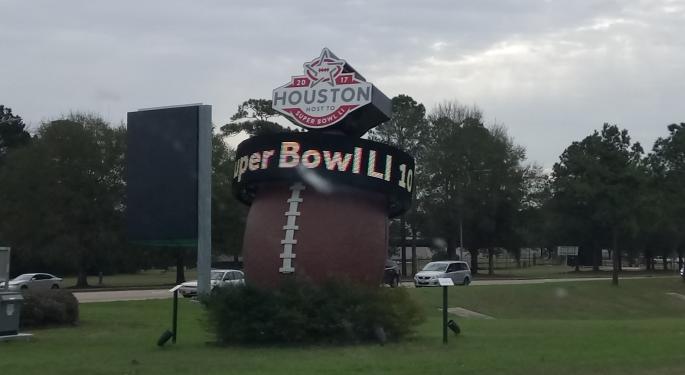 With the heated political climate these days, Americans likely won't even be able to escape politics on Super Bowl Sunday.
Halftime
The centerpiece of Super Bowl politics may be halftime performer Lady Gaga, who has been outspoken in her opposition to President Donald Trump.
"This performance is for everyone," Gaga said at a press conference this week. "I want to, more than anything, create a moment that everyone that's watching will never forget."
Gaga fans anticipate that she will use the platform to make a stand for her beliefs.
The NFL has denied reports that Gaga has been forbidden from mentioning politics during the show. Back in 2015, Trump called NFL commissioner Roger Goodell "a weak guy" in response to his handling of the Ray Rice scandal. "The commissioner is a dope. He's a stupid guy," Trump said.
Commercial Breaks, Political Activism And America's Sport
According to Loop Capital, divisive political issues and high expectations may be driving advertisers away from what will likely be one of the largest TV audiences in history. According to analyst David Miller, Twenty-First Century Fox Inc (NASDAQ: FOXA) still has unsold Super Bowl ad inventory.
"According to sources within the media buying community, certain brands are balking at the price ($5.0–$5.2 mm per spot, depending on the quarter), while others just don't want to face the scrutiny now 'de riguer' with every ad," he explained.
Loop Capital even suggested Super Bowl ad prices may have finally reached the tipping point at which companies believe advertising budgets are better spent elsewhere.
Other companies, whether intentionally or unintentionally, will surely spark political debates with their Super Bowl ads. Anheusuer Busch Inbev NV (ADR) (NYSE: BUD)'s Super Bowl commercial focuses on immigration.
PepsiCo, Inc. (NYSE: PEP) has a new ad for Lifewtr highlighting the importance of art and culture.
Laundry detergent Persil even has a silly Super Bowl commercial featuring climate change activist Bill Nye the Science Guy.
Super Bowl ads often serve as a time capsule of American life in a particular year. With that precedent in mind, Gaga's performance and 2017's Super Bowl advertisements will certainly be interpreted in an intensely-political light.
Image Credit: By WhisperToMe - Own work, CC BY-SA 3.0, via Wikimedia Commons
Posted-In: News Previews Politics Sports Events Top Stories Trading Ideas General Best of Benzinga
View Comments and Join the Discussion!