How China Lifting Its One-Child Policy Played Into Reckitt Benckiser's $90/Share Offer For Mead Johnson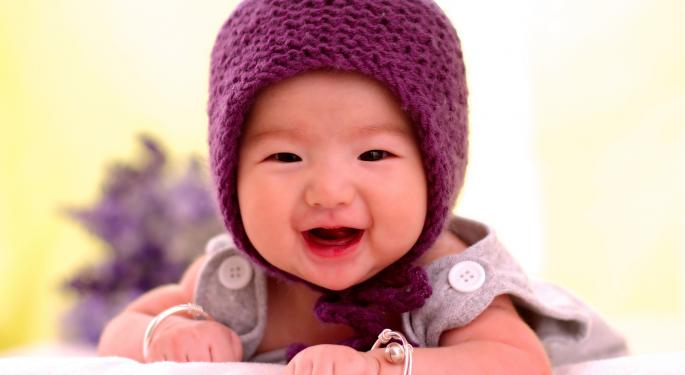 It is not baby babble but serious stuff, as a British company — known to unabashedly flaunt its allegiance to consumer healthcare business — has moved in to scoop an across-the-Atlantic baby food maker, having a dominant presence in China.
The Background
On Thursday, U.K. consumer healthcare giant Reckitt Benckiser Group Plc-ADR (OTC: RBGLY) confirmed rumors that it is in advanced stage of negotiations to buy out U.S.-based Mead Johnson Nutrition CO (NYSE: MJN), focused on infant and child nutrition, for $90 per share in cash, valuing the latter at $16.7 billion.
On the news, Mead Johnson shares rose 21 percent on Thursday. Reckitt Benckiser ADR also climbed 3.7 percent.
The move is seen as attempt to expand Reckitt Benckiser's business outside of Europe and better compete with rivals Nestle SA (ADR) (OTC: NSRGY)and Danone SA (ADR) (OTC: DANOY). Reckitt Benckiser clarified that the parties are engaged in a period of due diligence and contract discussion but also cautioned that there is no certainty that the transaction will materialize.
Door To Emerging Market Opportunity?
The U.K. company's revenues from hygiene made up 41 percent of the total revenues, health 34 percent, home 19 percent and portfolio brands 6 percent. The company derives roughly 61 percent of its revenues from Western Europe and the United States but has a scanty presence in the emerging markets. This acquisition, if it fructifies, could open up for the company, opportunities presented by the emerging markets.
Mead Johnson's Asia-Focus
Mead Johnson's latest 10-Q filing showed that the company derived 49 percent of its sales from Asia in the third quarter ended September 30, 2016. North America/Europe accounted for 33.5 percent of the sales and Latin America made up the remaining 17 percent. The company was spun-off from Bristol-Myers Squibb Co (NYSE: BMY) in 2009 after owned by the latter since 1967. Its flagship brand is Enfamil.
Incidentally, in 2014, reports suggested that French dairy giant Danone could make an offer for Mead Johnson to effectively compete against Nestle in the baby food market. With Danone having stitched up a deal with WhiteWave Foods Co (NYSE: WWAV), it looks highly unlikely that Danone launches a competing bid.
Nestle had beefed up its baby food business through its purchase of Pfizer Inc. (NYSE: PFE)'s baby nutrition division in 2012.
Global Baby Food Market
According to Statista, global baby food market size was estimated at $55 billion in 2015, up from $36.7 billion in 2010. Asia accounted for an estimated $24.5 billion in sales in 2015. Data from Euromonitor International showed that China's share of the baby food market pie is $19 billion.
China Blowing Hot And Cold
Though by the sheer size of its population, China offers a huge potential for companies, there are deterrents impeding progress too. According to 2011 statistics, China is home to 1.357 billion people and the number looks gargantuan when compared with the United States, whose population number 316.5 million.
After growing at a torrid pace, economic growth in China has slowed notably in recent years. Additionally, Chinese consumers are increasingly showing preference for e-commerce over buying at traditional stores. The government's promotion of breast feeding also impacted baby food sales.
Meanwhile, China's decision in 2015 to give up on its one-child policy, which was in place since 1979 as part of the family planning policy to slow the population growth, should provide a shot in the arm of baby food makers, as it meant an expansion in the addressable market. The government claimed that the one-child policy prevented about 400 million births, as violations were punished with fines, loss of employment and forced abortions.
The Chinese Communist Party's about-face on the one-child policy came about as it aimed at improving the balanced development of population and to deal with an aging population.
In a note issued in 2013, Morningstar analyst Ken Perkins had said ending the one-child policy could result in incremental volume upside for infant nutrition companies, specifically Mead Johnson, as it is the only company solely focused on selling infant and child nutrition products and China accounts for about 30 percent of its revenues.
Mead Johnson's status as a baby food pure play and its domineering presence in China, a market that offers huge value despite the many pitfalls, may have prompted Reckitt Benckiser's advances. That said, China, relinquishing its 3.5-decades-old one-child policy, may have been one of the major factors that clinched the deal in Mead Johnson's favor.
View Comments and Join the Discussion!
Posted-In: News Education Commodities Politics Events Global Markets General Best of Benzinga