Should Disney Be Concerned As Steve Jobs' Family Trims Stake By Half?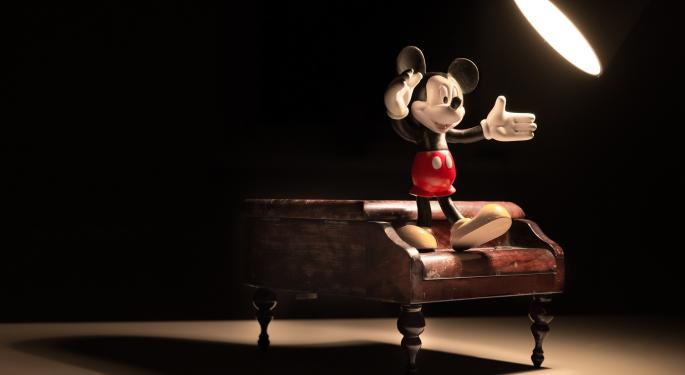 Walt Disney Co (NYSE: DIS)'s ties with the Jobs family is loosening, going by a recent regulatory filing.
Stake Halved
The trusts run by the late Steve Jobs' widow had cut their stake in Disney to 64.32 million shares or 4 percent, with the Laurene Powell Jobs Trust, the trust bearing her name, now owning 40.28 million shares, down from 118.84 million shares earlier.
Following the demise of Jobs, his stake in Disney, acquired through the company's 2006 acquisition of Pixar, in which Jobs held a majority stake, was transferred to five trusts, which beneficially owned 130.18 million Disney shares as of July 2, 2014. Powell Jobs was the sole trustee of all five trusts.
The Laurene Powell Jobs Trust held about 128. 57 million shares as of July 2, 2014. The trusts named for Powell Jobs and Steve Jobs' three biological children, namely Eve Claire, Erin and Reed Paul held 461,521 Disney shares each, and that for Lisa Nicole Brennan Jobs, a child sired out of wedlock, held 230,760 Disney shares.
As of December 31, 2015, the Laurene Powell Jobs Trust had edged down to 128.30 million and it was further cut down to 118.84 million shares of Disney. According to a Barron's article, Powell Jobs was now the sole owner of a sixth trust, named LP J 2015 GRAT D Trust, which owns 7.90 million Disney shares.
Even with the reduction in stake, Powell Jobs is now the fourth largest individual Disney shareholder, according to the Barron's report citing S&P Capital IQ. Earlier, Powell Jobs was the single largest individual shareholder in Disney. Now that the holdings had dropped below the 5 percent threshold, Powell Jobs is no longer mandated to report her disclose her transactions with Disney shares.
How Jobs Gained Foothold In Disney
Jobs' relation with Disney dates back to 2006, when the Burbank, California-based company bought Pixar Animation Studios for $7.4 billion. Pixar is a computer animation film studio founded in 1979 as the Graphics Group, which is a part of the Lucasfilm computer division. The company was subsequently spun-off as a separate company in 1986, taking funding from Jobs, who became its majority shareholder.
Following the release of its first full-length computer-animated film, the Toy Story, in November 1995, Pixar went public. Subsequently, Disney negotiated a deal to buy Pixar for $7.4 billion in stock in January 2006, with the exchange ratio fixed at 2.3 Disney shares for every Pixar share. Courtesy his stake in Pixar, Jobs picked up 138 million shares of Disney or about 7.7 percent through the acquisition.
Liquidation Not A Cause Of Worry
Powell Jobs' liquidation is not seen as a cause of alarm by analysts, as they see her focus as being on society rather than on markets and investments. The Barron's article referred to one of her articles in a November issue of Weird, guest-edited by former President Barack Obama, where she delved on undocumented immigrants. Her editorial titled "Immigrants Fuel Innovation. Let's Not Waste Their Potential," argued that legalizing the undocumented immigrants would add an estimated 150,000 new jobs annually and $1 trillion to the nation's GDP.
Disney shares had a roller-coaster ride in 2016 amid erosion of its ESPN subscriber base, although the Studio segment performed well. The Jobs family part-liquidation could not have come at an inappropriate time than this, given the uncertainty surrounding all of its businesses. That said, as analysts opined, the move could have nothing to do with the fundamentals of the company but a mere changed in focus of Powell Jobs, who is at the helm of all her family's investments in Disney.
Update: Emerson Collective released the following statement to Benzinga:
"Laurene Powell Jobs remains a significant shareholder in the Walt Disney Co. after divesting a portion of her holdings as part of normal long-term financial planning and portfolio diversification. Such diversification is part of Powell Jobs' philanthropic and impact investing efforts through her firm, Emerson Collective LLC, which focuses on education, immigration and the environment."
Posted-In: Barron's Laurene Powell Jobs Trust Pixar Steve JobsNews Legal Media Best of Benzinga
View Comments and Join the Discussion!