Disney/Pixar's 11-Year Anniversary: Where Are The Pixar Founders Now?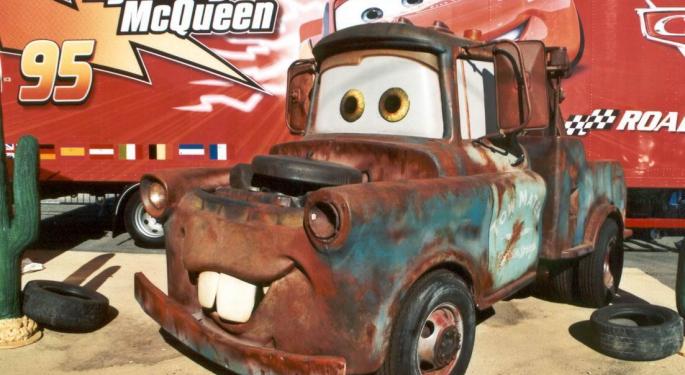 Walt Disney Co (NYSE: DIS) agreed on January 25, 2006, to acquire Pixar, the animated studio that was run by the late Steve Jobs.
Here is a look at Pixar's founders, Edwin Catmull and Alvy Ray Smith and where they are today.
Edwin Catmull
Edwin "Ed" Catmull is a computer scientist, one of the co-founders of Pixar, and now serves as the president of Pixar Animation Studios and Walt Disney Animation Studios.
At Pixar, Catmull was a pioneer in developing the RenderMan rendering system which was used in the first animated movie ever and Pixar's first ever theatrical film, "Toy Story." Following Pixar's decision to sell itself, Disney's ex-CEO Michael Eisner tasked Catmull with reinvigorating the Disney animation studio while also focusing on Pixar.
Catmull won his first Academy Scientific and Technical Award "for the development of PhotoRealistic RenderMan software which produces images used in motion pictures from 3D computer descriptions of shape and appearance" in 1993.
Alvy Ray Smith
Alvy Ray Smith III, Pixar's co-founder, met Catmull at the new Computer Graphics Laboratory at New York Institute of Technology in the 1970s. He first worked on a series of newer paint programs, including the first 24-bit program and co-invented the concept of the alpha channel.
Smith served on the board of directors and was an executive vice president of Pixar. However, he left the company following a fight with Jobs after using Job's whiteboard, which was apparently a major faux-pas.
Smith went on to co-found Altamira Software Corporation in 1991 and sold it to Microsoft Corporation (NASDAQ: MSFT). As part of the acquisition, Smith became the first Graphics Fellow at Microsoft until his retirement from corporate life in 1999.
Image Credit: By Lebubu93 (Own work) [CC BY-SA 3.0], via Wikimedia Commons
Posted-In: Altamira Software Corporation Alvy Ray Smith Disney Pixar Edwin Catmull Michael EisnerNews Management Media Best of Benzinga
View Comments and Join the Discussion!