Exclusive: Energous CEO Stephen Rizzone Presents 9 Wirelessly-Charging Products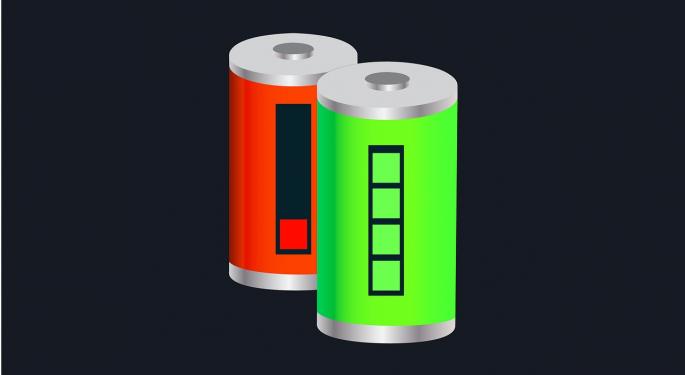 Benzinga recently had the chance to chat with Energous Corp (NASDAQ: WATT)'s CEO Stephen Rizzone. In the first part of this article, we looked into the company's new partnerships, how they were selected and when consumer products are hitting the market. In this second part, we'll share a peep into several products that feature Energous' WattUp wireless charging technology.
"It is important to note that all of the customers that I will be talking about have bought into our vision of the ecosystem build out," the exec pointed out. "While we provide significant benefits in terms of footprint and size, the main benefit that we provide is that all of these transmitters that initially are going to be transmitting via mat will also be able to receive power from our mid-size transmitters, our full-size transmitters, and our integrative Wi-Fi transmitters, as they come into the market. So, the idea is (and the vision is) a fully compatible ecosystem starting with contact base charging, evolving to three-feet or desktop, a full size and then Wi-Fi connectivity."
Chipolo
The first client (or partner) that Rizzone mentioned was Chipolo.*
"They are arguably number two in the Bluetooth tracking device market behind Tile Inc. They announced two very, very interesting products. The first product they announced is the Chipolo Plus Gen 2. This is a refined version of their current Chipolo Bluetooth tracker; it is smaller in size in terms of diameter, and it contains our receiver so that now they have the ability to bundle a number of these trackers with a very, very low cost transmitter and provide a charging capability – whereas Gen 1 was to use it and after a period of time throw it away or return it to the manufacturer for a discount in sending out another one.
"Now the paradigm has shifted so these transmitters will have charging capabilities on a mat.
"The second product is a product called the Chipolo Sticker. This is very, very interesting because it is about 65 percent smaller than any other Bluetooth tracker on the market. The reason it can be smaller is twofold. One, it contains our charging receiver, which is extremely small (4 mm x 4 mm). Two, because of that, they are able to put a very, very small battery in it because now you can continually charge this device. So, this is now a device, a tracker that can be put on the side of your glasses it is so small.
"They expect to release this at the end of this year with our first iteration of our wire free transmitter. The initial concepts are like the small computer-sized speaker that would fit next to the desk and would send power out 2 to 3 feet and you could just drop your glasses, your keychain, anything else with a sticker mounted on it, you could drop it in the area and it would receive a charge."
SK Telesys
Second in line was SK Telesys, a large Korean company.
"One of the products is a hearing aid. Again, because of the size and the cost, they have been able to integrate charging into a hearing aid for hearing impaired. It is a very, very small hearing aid. At the end of the day you can take 1 or 2 devices and drop it on top of a small mat and charge it. Then again, these devices will be compatible, and the regulatory that we will be receiving from the FCC will allow you to wear these devices. These hearing aids could be changed by our desktop transmitter or our full-size transmitter and, again, as part of the ecosystem build out.
"They also introduced a smart ID card. This is a concept that is really taking off in the Far East, and we think it will move into the U.S. and into Europe. Basically, it is a credit card sized device, about the same size that has a screen on it; a thumbprint recognition capability; a storage capability that has all of your critical data, your personal data, your credit card information, financial information, passwords, and so on and so forth. And, of course, it requires a power.
"It would not be possible to put a battery of any significance into this device, so, again, our ability to work within this footprint is paramount in order to make this device viable. It is also going to be used for employee ID cards."
PERI
The third company using Energous' technology is Peri.
"Peri is a small company in Southern California; they have a whole series of products that are scheduled for release. The first one though is a battery dongle [the PERI MicroPack] that you can put in your pocket, your briefcase, or a purse, and if you run low on your mobile device it can provide a 700mAh charge via a micro USB port. Then, it can be recharged by dropping it on the mat."
CVR Global
Next up was GVR Global/CVR MEDICAL CORP COM NPV (OTC: CRRVF).
"CVR Global was a medical device company. They have a sensing device for cardiovascular disease [the Carotid Stenotic Scan]. The device is placed on the chest.
"Prior to the incorporation of our technology, they had these long and cumbersome cables that were required. There was a very, very significant hygiene issue and everything had to be clean [and] it was difficult to clean. The alternative with the WattUp technology is now it is hermetically sealed. You lift it out of the cradle, place it on top of the patient, the procedure is completed; it is [then] returned to the cable. There is nominal cleaning; it is very mobile."
Sejin Electronic Inc.
The fifth partner Rizzone mentioned was Sejin Electronic.
"They are a Korean company and they have come out with a number of iterations of our mat transmitters [Miniature WattUp transmitters]."
Pegatron
Finally, there's Pegatron.
"Pegatron is arguably the second largest ODM in the world. They are going to be doing two things for us. First of all, they are going to be manufacturing our mat-based transmitters on white label so companies like Chipolo, who have the receivers, will be able to white label a transmitter to their design and specification and bundle it in a single package.
"Pegatron has also developed a number of reference designs. The one they had at CES was a reference design for a fitness tracker, which gets very small form factor. It contains everything from heart monitoring to a small screen, the necessary features and functionality to provide a fitness band and it is a reference design. So, if you want a fitness band or you want to incorporate this technology into intelligent clothing or sports clothing or whatever, there is now a fully developed reference design that you can just take and design in, and obviously save considerable time and money."
The Timeline
"All of these products I believe will be hitting the market in the second quarter, except for possibly CVR. They still have some FDA approvals that are necessary. They are going through the trials now. So, if it is not the second quarter, it will be after that.
"But, this is the first product that will be incorporating our technology. I want to again emphasize the point, they are being released with our first iteration of transmitters, but every one of these customers are completely bought into and believe in the vision of an ecosystem build out where all of these receivers today are going to be compatible with all of the transmitters today and tomorrow."
*Note: Interview transcript has been edited for length and clarity.
Posted-In: Stephen Rizzone WattUp Wireless ChargingHealth Care Management Tech Interview General Best of Benzinga
View Comments and Join the Discussion!