Trump Maintains Voter Fraud Allegations; The Press Presses The Issue, But Press Sec. Spicer Belittles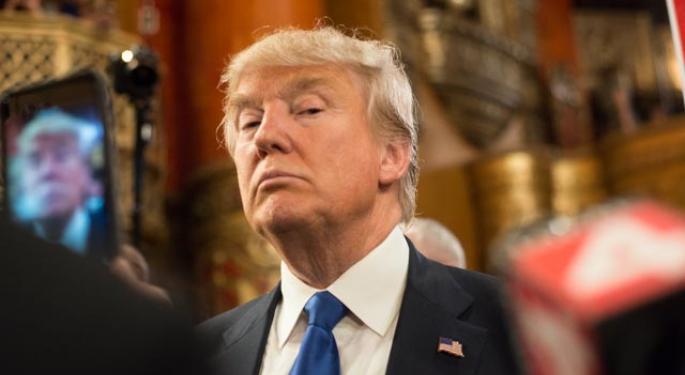 President Donald Trump continues to maintain his position that millions of illegal votes and widespread voter fraud cost him the popular vote.
However, in White House press briefing No. 2, journalists' questions regarding this concern were dodged throughout the meeting.
While it may appear that continued pressing by the journalists in the briefing room were beating a dead horse, the issue is of legitimate concern. If there had been voter fraud, depending on the location, the president's win could come under fire. To assume voter fraud only worked in the direction against him is naïve. To hold such position and not investigate undermines the legitimacy of the system itself.
You'll find below Benzinga's transcript of the interactions between the journalists in the briefing room and Press Secretary Sean Spicer. The briefing in its entirety can be found at the bottom of this article.
Is There Any Evidence?
Journalist: Does the president believe that millions voted illegally in this election? And what evidence do you have of widespread voter fraud in this election, if that's the case?
Spicer: The president does believe that. He has stated that before. I think he stated his concerns of voter fraud and people voting illegally during the campaign, and he continues to maintain that belief based on studies and evidence that people have presented to him.
Journalist: But what exactly what evidence? [cross talk] Speaker Ryan said today there is no evidence. The national association of secretaries of states say that they don't agree with the president's assessment. What evidence do you have?
Spicer:As I said, I think the president has believed that for a while based on studies and information he has.
'The Problem Is He's Bringing It Up'
Journalist: When you were talking about that voter fraud, are you going to ask for investigation? Is the White House going to formally ask for a probe into this alledged—
Spicer:No. I think he won very handidly with 306 electoral votes, 33 states. He's very comfortable with his win, but I—
Journalist: The problem is he's bringing it up.
Spicer: I think he was having a discussion with some folks, and mentioned something in passing, which has been a long-standing belief that he's maintained. This isn't the first time you've heard this concern of his.
Journalist: I think it's worth clarifying whether illegal ballots or illegal immigrants—
Spicer: I think there have been studies — there's one that came out of Pew in 2008 that showed 14 percent of people who have voted were not citizens. There's other studies that have been presented to him. It's a belief he maintains.
Journalist: —counted improperly is Dick Durban, says the president personally told him last night it was that the people who voted did so illegally.
Spicer: I've been asked and answered. It's a belief that he's maintained for a while. A concern that he has about voter fraud. And that's based on information that he's been provided.
It Would Be A Huge Scandal
Journalist: If 3 to 5 million people voted illegally, that is a scandal of astronomical proportion. Doesn't he want to restore American's faith in their ballot system? Wouldn't he want an investigation into this?
Spicer:Well, I—
Journalist: —this is a huge scandal.
Spicer: As I've noted several times now: he's believed this for a long time. And I think he won fair and overwhelmingly so. And we're—
[cross talk]
Journalist: I'm asking you why not investigate something that is—
Spicer: well, maybe
Journalist:—the biggest scandal
Spicer: We will
Journalist: —in American electoral history. Three (3) to 5 million people voting illegally?
Spicer: —and I think, I, we [indistinguishable] we'll see where we go from here, but right now, the focus the president has is on putting Americans back to work. It was a comment that he made on a long-standing belief.
At 3 Million Votes, Maybe He Didn't Win
Journalist: You said the president believes that there was voter fraud. I wonder if you believe that. You were with the Republican National Committee at the time and Chief of Staff Reince Priebus was the chairman of the RNC at the time. Do you believe there was widespread voter fraud?
[cross talk]
Spicer: Listen, my job is not to— Look. I. This.
Journalist: How can he be comfortable with his win if he believes there—
Spicer: —he's very comfortable with his win.
Journalist: 3 million votes, maybe he didn't win it.
Spicer: No. He's very comfortable with his win. It's an electoral-based system. He got 306 electoral votes. 33 of 50 states voted for him. I think— Look, Jeff. I've [been] asked and answered this question twice. He believes what he believes based on the information he has been provided.
Journalist: If he does believe that then, what does that mean for democracy though?
Spicer: It means that I've answered your question. Journalist: but have you?
Will There Be An Investigation? Possibly
Journalist: And really not to belabor a point here, but you said that the president believes, has believed for a while there was widespread voter fraud. But only four days ago did he get the power of the presidency to be able to do something about it. So, why not definitively say that he will investigate? If he believes, and is in the administration position, that there was massive voter fraud.
Spicer: Well, first of all, the comment he made was, he said, 3–5 million people, you know, [indistinguishable] — could have voted illegally based on the studies that he has seen. But he's very clear that he won the election based on the 306 electoral votes that he got. We're here on day two. I think, let's not prejudge what we may or may not do in the future.
Journalist: But if he lost, would he be upset?
Spicer: Of course he would be upset! Who wouldn't be upset if they lost? No, no. But that's not how the election is held in our country […] he won overwhelmingly with 306 electoral votes. The most since any republican president since Regan. He's very comfortable with the depth and the breadth of the support that he got from the American people and the 33 states that voted for him in 9 of the 13 battleground states, the 2,600 counties. He's very, very pleased with that.
Journalist: I just want to be clear about this investigation, because it seems like you have potentially opened a door for one. Have you discussed with the president the possibility—
Spicer: Which investigation are you referring to?
Journalist: —of possibly investigating this voter fraud—
Spicer: No, I didn't. I did not po— No. I did not.
Journalist: But you said it is possible.
Spicer: No, I— of course. Anything is possible…I think at some point. Look. I was asked a question. There is no investigation. I said it was possible. Anything is possible. It was a hypothetical question. My point to you is that to ask us on day 2— he made a comment last night on something he has believed and said for a long, long time. And the question that was asked to me was whether or not— so I— it's been asked and answered. I'm not—
View Comments and Join the Discussion!
Posted-In: Donald Trump illegal ballots illegal votingNews Politics Events Media General Best of Benzinga