Cannabis Industry Expert Jay Czarkowski On The Challenges Of Marijuana Legalization And Business Compliance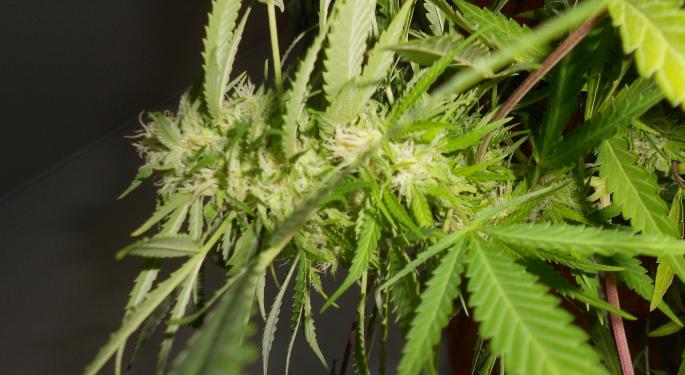 Canna Advisors is a business development services company focused on helping form new cannabis businesses in new states and new countries. The firm also invests in the industry — especially in startup companies, works as an advocate and donates money to numerous state non-profits.
Benzinga recently had the chance to chat with Jay Czarkowski, founding partner at Canna Advisors, who explained that the firm does everything it can "to help pass new laws to legalize cannabis in new places."
Moving Forward
"In 2017 I think we will see states legalize cannabis legislatively," the expert commented. "So, not by popular vote— I think we'll see the politicians legalize cannabis at least in two states: Rhode Island and Vermont. And that will be a first; it will be wonderful to see. "
"I definitely believe the industry is going to continue to grow," he added. "I really don't think that President Trump or his attorney general are going to stop this. If anything, the growth might not be as fast, but I definitely predict that the industry is going to grow significantly in 2017."
Benzinga: Which are the main challenges in regulating mixed regimes?
Czarkowski: A lot of states will typically start off with a medical program; I've never seen a state just jump head first onto recreational legalization. If you think about it, cannabis is a very safe product; it's pretty much harmless, it's just a plant. But in all of these places where it's been illegal for so long, people don't know that it's safe, people don't know that it's harmless. So, we have a joke around the office sometimes that a lot of people will treat cannabis like it's plutonium, like it's toxic, like it's dangerous— With that said, a lot of states feel comfortable, as a first step, to start with medical. And then, a lot of states now have recreational programs.
There's really only a few states that have a mature recreational program after medical. One of those states is Colorado, where you still have two separate programs. We have a medical program with separate licenses, and a recreational program with separate licenses. Those two programs can't cross so, if you have a medical license, you are not allowed to sell through a recreational store. Even though it's the same product, the rules are different, the licenses are different, and the programs are separate.
I don't think this is practical, long term; I don't really see the reason for it, but it's working out okay.
Benzinga: Which are the hurdles for getting a license?
Czarkowski: The states that issue the licenses want to see, generally, four things:
A good business plan with a realistic financial model, so that they can see that this company understand what their expenses are going to be, and that they have enough money to succeed.
A good team with professional that have experience in the required areas.
A plan that's going to show good benefits back to the community, the state and the patients.
A very detailed plan covering all the areas of operation, all the details, so that the state has a comfort level that this business is going to be run accord to state law.
A Shifting Landscape
Benzinga: Why do you think such a large percentage of the American population now supports cannabis legalization? What has changed?
Czarkowski: I think more and more people are finally becoming aware and educated on the truth about cannabis. I also think that people are sick and tired of the drug war.
Benzinga: So, why does legalization remain so difficult on a federal level?
Czarkowski: [There are] two differences between Canada and the U.S. Canada has a new prime minister, a younger guy who realizes that cannabis is harmless, safe— So you have a guy at the top that's pushing it, that's great. In the U.S., you have a lot of old politicians— Maybe they are stubborn, maybe they are set in their ways— Some of them are legitimately ignorant to the fact that cannabis should be made legal. But, slowly, those people are coming around, learning— It's just going to take some time. But, clearly, at some point in the future, cannabis will be legal on a federal level, it's just a matter of time.
No 'Get Rich Quick'
"I can tell you one thing from being in the cannabis industry for eight years now," Czarkowski concluded. "It is certainly not instant richness [although] a lot of people think it is. But, really, the cannabis industry is highly regulated, so, if you are doing it legally, you are really in the compliance business— It's a long game; there's no 'get rich quick' in this industry— The cannabis industry is no different than any other industry where, if you get involved, you work hard, you work smart, you get a chance to make some good money. But there's certainly no guarantees."
Investments
Finally, Benzinga asked about Canna Advisors' investments. "The main focus of our investments is on infrastructure companies," Czarkowski disclosed. "We don't invest directly in companies that grow or sell cannabis. We are not opposed to that, that's fine, we just find better value (we believe, long-term) in companies that are growing to service the industry such as software companies [and other] technology plays that are going to support the industry."
"We don't typically invest in public companies. We do own shares of public companies like General Cannabis Corp (OTC: CANN) and Americann Inc (OTC: ACAN), which were given to us through some projects, but we don't typically invest in public companies," he added.
"I think certainly the best opportunity outside of the U.S. right now is Canada, because it is in the process of legalizing cannabis on a federal level [...] [and] there's a very good chance it will happen in 2017," he ended.
View Comments and Join the Discussion!
Posted-In: Cannabis News Politics Topics Legal Management Interview General Best of Benzinga