Cringe Worthy? No One Wants To Chat With U.K.'s Theresa May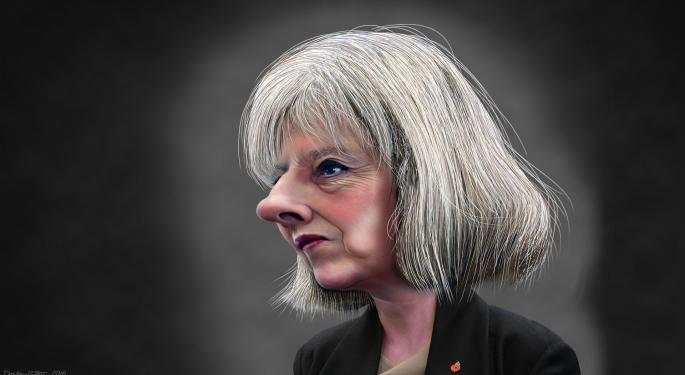 CNBC posted a cringe-worthy video of the U.K.'s Prime Minister Theresa May awkwardly looking for someone to talk to.
For a full minute, May is standing all by herself yet is surrounded by a room full of people who are hugging and kissing each other. At the 0:47 mark of the video she turns around hoping someone will acknowledge her and as if in cue a gentleman and lady behind her joyfully hug and kiss each other.
Context
The British Prime Minister attended a summit of 27 heads of state of European nations to an obvious cold reception. The U.K.'s citizens voted in June to withdraw the country's membership from the European Union — to the dismay, shock and anger of many European leaders.
According to the U.K.'s Daily Mail, May's cold reception in the video merely symbolizes Europe's attitude toward Britain following the referendum. In fact, May is the sole head of state who needs to arrange dinner plans as every other head of state has a dinner meeting to discuss their Brexit plans in secrecy.
"'As we are going to invoke Article 50 and trigger Brexit by the end of March next year, it is right the other leaders prepare for those negotiations as we have been preparing," May was quoted by the Daily Mail as saying. 'We will be leaving the EU, we want that to be a smooth and orderly process as possible &mash; it's not just in our interests, it's in the interests of Europe as well."
May Wasn't Completely Ignored
The internet crowd naturally appreciates a good awkward video, and the minute-long clip of May certainly provided that. However, it should be pointed out that the prime minister wasn't completely ignored the entire session and was greeted by European Council President Donald Tusk and held informal chats with various heads of state, including Germany's Chancellor Angela Merkel.
Image Credit: By DonkeyHotey (Theresa May - Caricature) [CC BY 2.0], via Wikimedia Commons
Posted-In: Brexit CNBCNews Eurozone Events Markets Media General Best of Benzinga
View Comments and Join the Discussion!