Gratefulness Multiplies As Thanksgiving Gas Prices To Ease To Third Lowest In Decade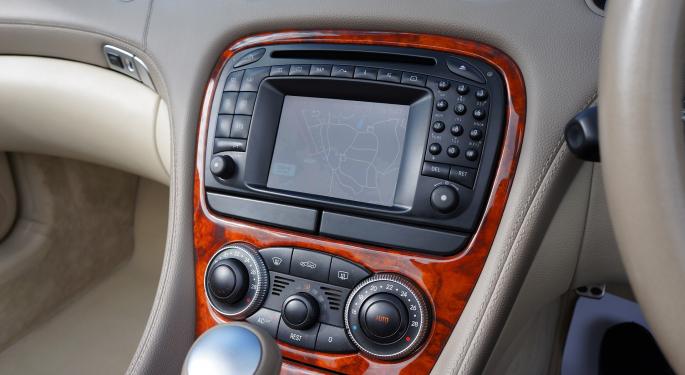 There might be cheer for those who are preparing to be on the road for Thanksgiving. Gas prices may pinch their pockets less this year, leaving them with more disposable income to splurge on spending related to the occasion.
Adding To Consumer Cheer
This is an added premium over the better affordability enjoyed by consumers currently. The Bureau of Economic Analysis' personal income and spending report for September released in late October showed personal spending, which makes up over two-thirds of economic activity, rose a solid 0.5 percent month-over-month. This was ahead of the 0.4 percent growth expected by economists.
Why Gas Prices Are The Wane
The decline could be attributable to the winding up of the autumn refinery maintenance season, which is expected to increase the output and prove bearish for prices.
Additionally, crude oil, of which gas is a by-product, has also been southward bound in recent weeks on hopes that OPEC members could fail to come to a consensus regarding production cuts they have been threatening the markets with. Rising expectations that the Fed will lift the rate that has strengthened the dollar have also led to the weakness in the prices of commodities denominated in dollar. From over $50-a-barrel in late October, crude oil futures are now contained below the level. A barrel of oil is currently trading at $47.60, up $1.24 from last Friday.
Third Lowest In Over A Decade
According to estimates by GasBuddy, national average gasoline prices this Thanksgiving Day (taken as the period between Wednesday, November 23, 2016, to Sunday, November 27, 2016) is expected to be $2.11 per gallon, the third lowest in over a decade. The previous lowest was in 2015, when prices averaged $2.05. And in 2008, prices were at $sub-$2 levels at $1.81 per gallon.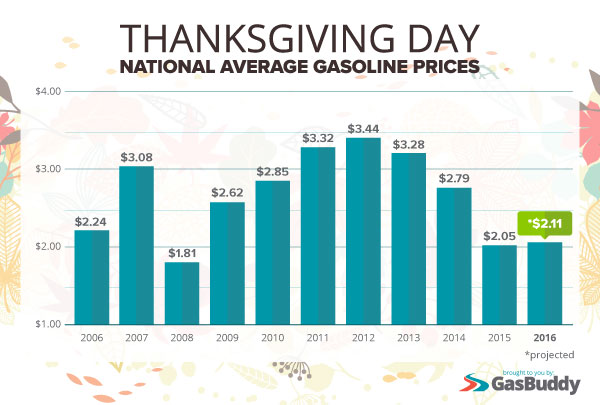 According to the American Automobile Association, or AAA, the national average retail gas prices are $2.139 currently, down from $2.230 a month ago, but higher than the $2.088 a year ago.
The tempered price expectations can be better gauged by comparing the price levels of gas, which ruled at $2.79 in 2014 and over $3-levels in each of the years from 2011 through 2013.
In comparisons, none of the states in the United States, even the priciest ones of Hawaii and California, are expected to see a breach above the $3 levels for average prices, the first time in over a decade.
GasBuddy also noted that prices in 44 of the 50 states are witnessing lower gas levels than a week ago. Estimates of the firm show that motorists collectively expect to spend nearly $1.7 billion less at the gas pump than the five-year average.
Thanksgiving Travel Survey
52 percent of those travelling will be on road for at least four hours, with 20 percent of then driving over 10 hours.
"Running out of gas" is the third biggest fear of travelers after "sitting in traffic" and "needing to use restroom."
55 percent of travelers look to make a stop only when it is absolutely essential.
And when they do make a stop, gas prices and location are the top deciding factors.
"Travelers will be journeying a long distance this year. It is evident that consumers are looking to save time and make quick stops that can fulfill all their needs from affordable fuel, to clean restrooms, to good food," said Michael DiLorenzo, vice president of marketing at GasBuddy.
View Comments and Join the Discussion!
Posted-In: AAA American Automobile Association Bureau of Economic AnalysisNews Education Travel Media General Best of Benzinga