Gannett Ends Tronc Merger Talks: What's That Mean For The News Industry?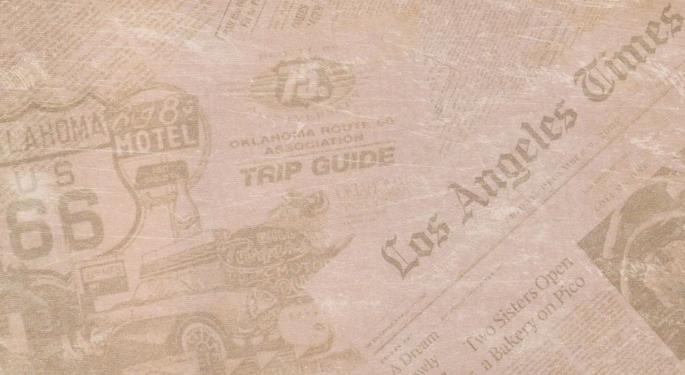 After a seven-month courtship that veered from strong affinity to acrimonious mud-slinging, Gannett Co Inc (NYSE: GCI) called off its merger talks with tronc Inc (NASDAQ: TRNC).
Checkered M&A Move
The initial move was made in April, and upon hitting rough weather, Gannett went public with an $815 million offer to buy Tribune Publishing, the name by which tronc went by at that time. Gannett's appeal struck a chord with Tribune shareholders, who promptly took up cudgels against the management.
As shareholder opposition emerged, Tribune announced a new strategy, including creating a unit called tronc, aimed at systematically server advertising based on artificial intelligence. After Tribune rejected Gannett's offer in May, Tribune rechristened itself as tronc following its June shareholder meeting.
Soon, the Street began speculating a $18.50–$19 per share bid for tronc and the news of Gannett is trimming workforce by 400, or 2 percent, only served to strengthen expectations that a deal may finally be announced along with Gannett's earnings announcement.
Bankers' Dilemma Over Valuation
But it was not to be. Of course, early indications did come when Bloomberg reported bankers as none too happy with the valuation of the deal, given Gannett would be paying roughly 150 percent premium over tronc's stock price before the deal talks were made public and no competing offers had emerged.
With last Thursday's Gannett earnings call mum on any deal, the Street punished Gannett's stock, as it slid 17 percent. Tronc fell a steeper 28 percent.
Giving reasons for the failed bid, John Hartman, a journalism faculty member at Kent State University, said Michael Ferro, tronc's chairman, never wanted the deal and fought against it. Hartman added, "Ironically, really bad news for the newspaper industry — steeper newspaper industry revenue declines than expected that apparently scared the banks off-- torpedoed the deal and left him in a bad way with Tronc stockholders who lost big because the sale did not go through."
"I am surprised GCI has fallen as much as it did. It is still a good business in contrast with Tronc, that is not a very good business in my opinion. I believe GCI will regain much of its losses and that it will go ahead with acquiring other smaller chains such as Lee and McClatchy and continue to expand," Hartman added.
Fall Out Of Failed Bid
Gannett, which is actively pursuing inorganic means to survive and grow, is now a debilitated lot. The company's dream of achieving a national footprint is scuttled. Tronc's stable of Los Angeles Times, Chicago Tribune, Baltimore Sun, Hartford Courant and two big Florida papers would have been good additions to its flagship USA Today national newspaper.
The scale Gannett might have hoped to achieve with a tronc buy is now a pipe dream. If the deal had materialized, it would have armed Gannett with journalistic resources and market footprint, allowing it the leeway of massive cost savings through consolidation of operations.
Tronc isn't immune to the after-shocks of the development either, as its print advertising revenues are declining sharply. The new strategy of relying on artificial intelligence software to hone designing, publishing and distribution skills for online content might have to be revamped after it was put on the back-burner for a while amid the M&A talks.
Hartman said, "Tronc's only hope is a rich vanity investor who wants to own two prestigious nameplates: LA Times and Chi Tribune, but I expect any stock price recovery to be minimal baring a purchase or takeover. It should be noted that uncertainty about the outcome of the presidential election (fear of Trump) is pulling the overall market down."
Delving into what is to befall both parties, Hartman added, "I think GCI would have made something of the tronc papers and it would have been good in the long term because GCI has vast resources. Tronc papers are at risk now because Ferro does not have the resources to support them, either financially or artistically."
For the newspaper industry, it could be bad news, as it is heavily reliant on ad revenues, which are on a free fall. There is no dearth of news on lay-offs and shift in focus to digital and mobile news. The coming days could redefine the way newspapers are run, as the struggling industry regroups in a bid to revive its flailing fortunes.
Gannett closed at $7.59, down 2.32 percent on Tuesday, and tronc shares ended the session down whopping 12.39 percent at $10.54.
Posted-In: Baltimore Sun Chicago Tribune Hartford CourantNews Education M&A Trading Ideas General Best of Benzinga
View Comments and Join the Discussion!