Marijuana Boom Generates Loads Of Jobs And Cash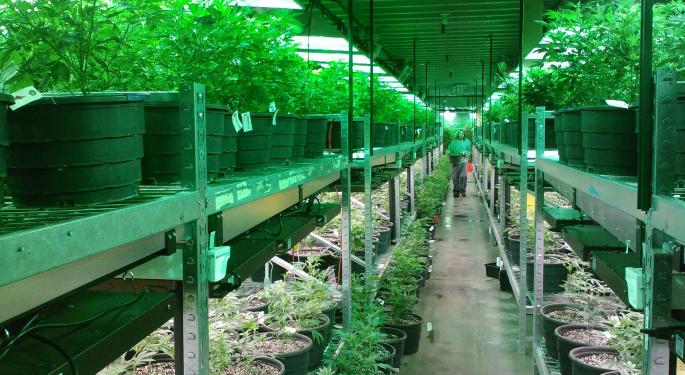 Last year, the legal marijuana industry generated $2.4 billion and 18,000 new jobs in Colorado alone, a study from consulting firm Marijuana Policy Group (commissioned by the state of Colorado) found. While these figures also consider related business verticals and spillover effects, they are still staggering for a nascent industry.
"If this is done right, regulated right, taxed right, this industry can bring real economic benefits to a state," Adam Orens, MPG founder and study co-author, stated in an interview.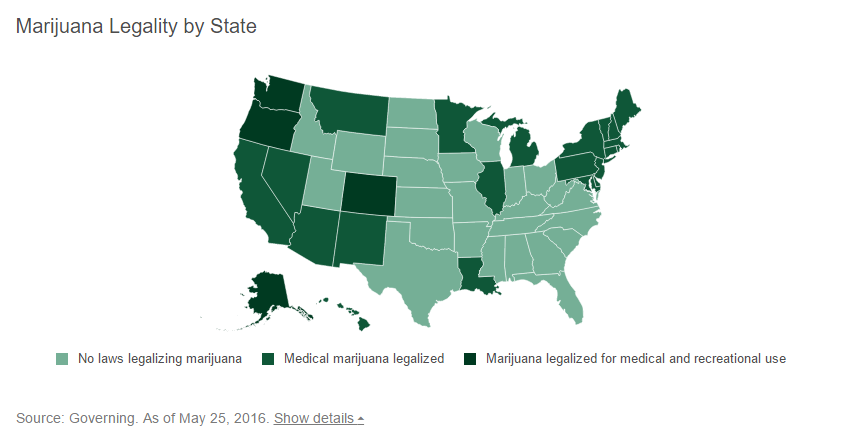 Source: InsideGov | Graphiq
"It would be easy to confuse the rapid growth in marijuana sales with an inherent growth in marijuana demand," the report explained. "But that is not the case. Legal marijuana sales are increasing due to a supply shift — away from gray and black market suppliers, toward licensed suppliers."
In addition, the research noted continued, marijuana taxes meant about $121 million in revenue to Colorado. MPG anticipates the figure will hit $150 million by 2020.
Where Will The Money Go?
Colorado represents a big portion of the marijuana industry in the United States, but it is not the only state with a legal marijuana industry. Quite the opposite: About half of the states have one.
And, as the number of states continues to increase, so does the amount of banks working with these kinds of businesses. However, merchants still declare they are quite short, and often left out of the system, as marijuana remains illegal on the federal level. When will they see large banks like Bank of New York Mellon Corp (NYSE: BK), JPMorgan Chase & Co. (NYSE: JPM) and Wells Fargo & Co (NYSE: WFC) take their money, many are asking.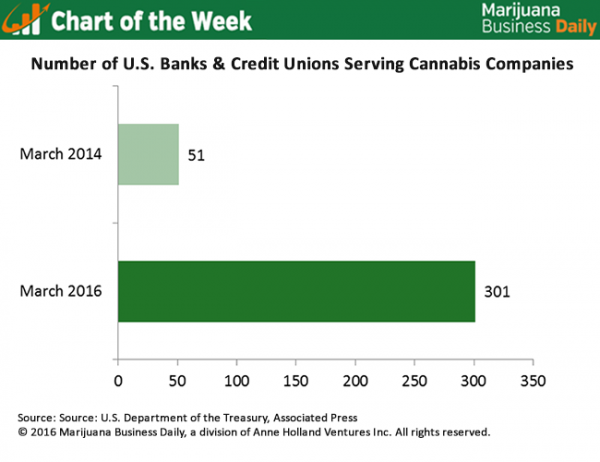 Source: Marijuana Business Daily
While some businesses in the industry are stashing their money, in cash, in storage units or armored vehicles, others are turning to blockchain services like Tokken.
No matter how creative people get, the marijuana industry needs banks, and the upcoming vote for marijuana legalization in nine states could be the tipping point for the federal government.
According to Arcview Market Research calculations, the legal U.S. cannabis market is expected to hit $21.8 billion by 2020. "The prospect for a market of such scale is adding urgency to calls for a national approach to marijuana that expands banking options. Law enforcement and Federal Reserve officials have expressed concern about the fraud and crime associated with un-bankable cash," a Reuters article concluded.
Disclosure: Javier Hasse holds no interest in any of the securities or entities mentioned above.
Posted-In: Cannabis News Emerging Markets Politics Topics Econ #s Markets General Best of Benzinga
View Comments and Join the Discussion!