10 LGBT CEOs Who Weren't Afraid To Come Out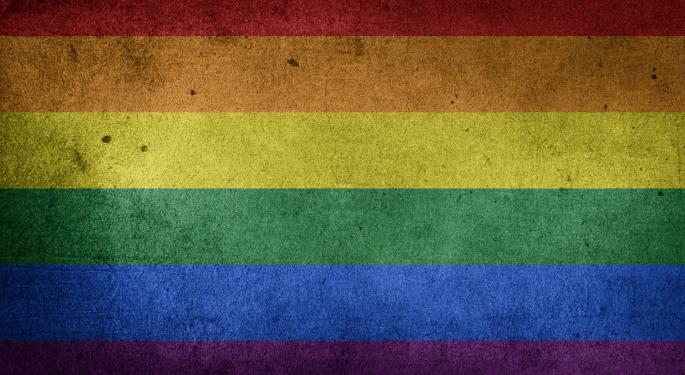 Tuesday marks the 28th annual National Coming Out Day for people who choose to publicly declare their membership in the lesbian, gay, bisexual, transgender and queer (LGBTQ) community.
There are a number of inspirational LGBTQ business leaders that have courageously opened up publicly about their sexual identity. Here's a look at 10 CEOs of major global companies that have come out publicly.
1. Tim Cook, Apple Inc. (NASDAQ: AAPL)
"I don't consider myself an activist, but I realize how much I've benefited from the sacrifice of others," Cook said in an inspirational statement back in 2014.
2. Robert Hanson, John Hardy
"Corporate leaders need to realize that a strong company should make money – and be a force for social change," Hanson wrote in Time in 2014.
3. Trevor Burgess, C1 Financial Inc (NYSE: BNK)
"It's only a matter of time before openly gay people, people like me who have been authentic their entire adult lives, rise through the ranks to the C-suite," Burgess said back in 2014,
4. Christopher Bailey, Burberry
Back in 2014, Bailey became the first ever openly gay CEO of a British FTSE 100 company.
5. Rick Welts, Golden State Warriors
Welts became the first prominent American sports executive to come out as gay in a 2011 New York Times interview.
6. Inga Beale, Lloyd's of London
Beale topped Business Insider's list of the most powerful LGBTQ business leaders in the world in 2015.
7. Alan Joyce, Qantas
"Any piece of important legislation that in some way says you're different, you're second class, you don't have the same rights as everybody else, is bad for everybody's position," Joyce said in 2015 in support of Australian marriage equality.
Related Link: 10 CEOs You Need To Follow On Twitter
8. Antonio Simoes, HSBC Bank
"If we want to live in a true meritocracy, the only thing that should matter is what you can do and not what you are," Simoes said in 2015.
9. Martine Rothblatt, United Therapeutics Corporation (NASDAQ: UTHR)
Rothblatt, who is transgender, has repeatedly spoken out publicly in favor of re-thinking gender categories. "Genitals are as irrelevant to one's role in society as skin tone," she said in 2014.
10. Anthony Watson, Uphold
Watson took a stand this year when he announced that his company, Uphold, would be moving its headquarters out of South Carolina in order to protect the company's LGBTQ employees from local discriminatory laws.
View Comments and Join the Discussion!
Posted-In: Alan Joyce Anthony Wason Antonio Simoes Christopher BailyNews Education Events General Best of Benzinga