Would Buying TNA Mean Anything For WWE's Stock?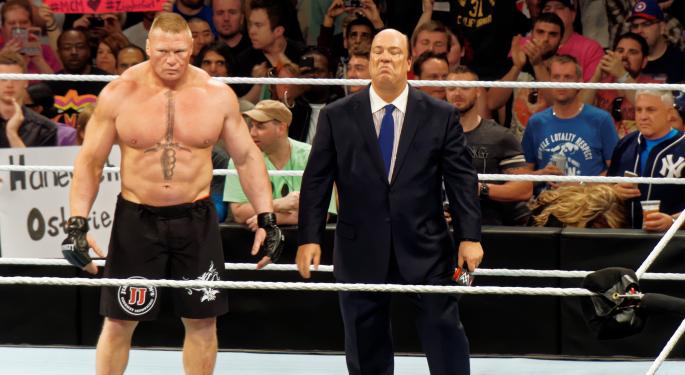 World Wrestling Entertainment, Inc. (NYSE: WWE) has a long history of buying out its competition, and rumors have surfaced this month that WWE could now be interested in acquiring rival Total Nonstop Action (TNA) Wrestling.
This week, Forbes reported that WWE is one of three serious bidders for TNA, which is currently owned by a group of minority owners including businesswoman Dixie Carter-Salinas and Smashing Pumpkins frontman Billy Corgan.
In addition to WWE, Corgan and Ring of Honor (ROH) owner Sinclair Broadcast Group Inc (NASDAQ: SBGI) are also reportedly interested in acquiring TNA.
Related Link: ESPN Launches WWE Vertical 6 Months After Saying It Doesn't Cover Pro Wrestling As Sport
Earlier this month, pro wrestling journalist Dave Meltzer reported that WWE would likely only acquire TNA if there were no other serious bids. He added that WWE is probably mostly interested in adding TNA's content library to the WWE Network. If WWE were to acquire TNA, the company may choose to sign a handful of top performers, but TNA would most likely be shut down as a stand-alone entity.
For WWE shareholders, a TNA buyout probably wouldn't impact WWE's share price much. Earlier this month, the New York Post estimated TNA's value at $40 million. Meltzer disagrees.
"Nobody is paying $40 million," he tweeted in response. "Take one zero off."
In the past four quarters, WWE generated $703 million in revenue, and the company's market cap is currently $1.60 billion.
Image credit: Miguel Discart, Flickr
Posted-In: Billy Corgan TNAM&A News Rumors Sports Opinion General Best of Benzinga
View Comments and Join the Discussion!