Meet The Protesters At The Republican National Convention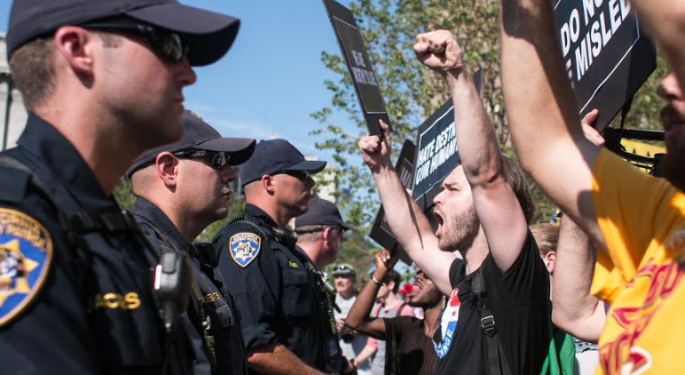 On the third day of the Republican National Convention, protesters, media and citizens swarmed Public Square in Cleveland, Ohio, while officers from around the United States formed lines of protection.
Police officers from all around the United States have joined forces with Cleveland Police to keep the city under control and safe during this time. There are 5,500 total law enforcement officers assigned to RNC security. This includes 3,000 federal officers, 2,000 non-federal officers from out of state sworn in to assist the Cleveland Police Department, and about 500 Cleveland police officers.
Haters & Lovers
On one end of the square, Westboro Baptist Church was holding signs such as "Got Aids Yet?" and shouting comments at protesters holding signs such as "Queer Love" and "We Are Human." It was a hasty dispute between both sides, but the protests remained under control and peaceful for the most part.
Related Link: Thiel Sees Trump As Ultimate Disrupter
On the other end of the square, protesters Terry Kaye and his wife Ellen Maye Kaye dressed in robes, were holding signs that said "Trump is the Anti-Christ" and "USA Gone Insane."
The Real First Female President
From Trump haters to Trump supporters, Hawaii Delegate Allen Frenzel was walking around with a sign that said "1st Woman President Ivanka 2024." He feels that Ivanka will be fully prepared to take office after Trump serves his two terms.
"I am sending a message that Miss Hillary is not going to be our first woman president," Frenzel said, "After Trump finishes his two terms Ivanka will become the first woman president and first Jewish president."
Frenzel marched around with the sign and explained to the press why he feels so strongly about Ivanka becoming the first female president.
A Revolution
On the other hand, April Brucker from New York City walked around with a puppet of Donald Trump. Brucker is in Cleveland with her organization called Stand Together Against Trump. Her organization spoke in Public Square to bring awareness to their thoughts regarding Trump's nomination.
Marni Halsa was wearing a butterfly costume in Public Square. Halsa is apart of an organization in New York City called "Revolution Is Sexy." This organization offers consulting services on how to effect real change in America, staging protests and events that will catapult messages into the media and into the minds of the public.
Halsa was wearing a butterfly costume and holding a sign that said "Let Democracy Fly, Dump Trump!" Halsa says that the protests have been really inspiring so far.
"We should embrace diversity and not talk badly about immigrants or woman and show leadership," Halsa said, "Trump should stick to his reality TV show."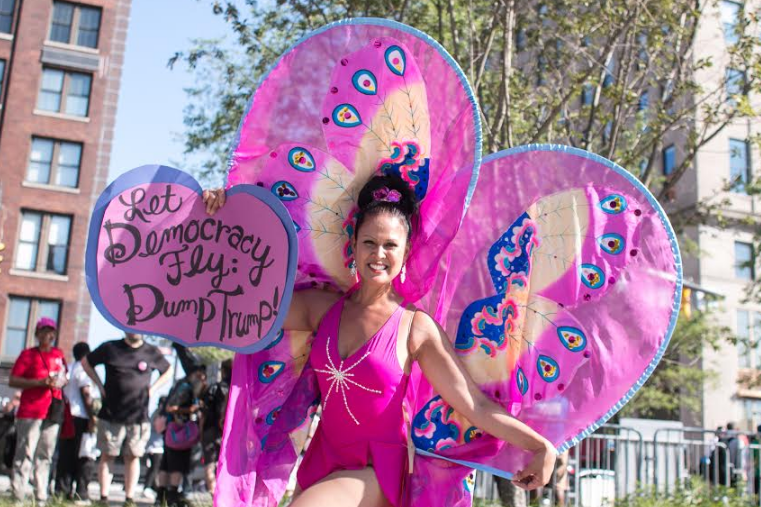 Come Together
Some people feel that coming together as one may be the answer to peace.
Cleveland resident Hanif Phelps was holding a sign outside the protest that read "All Lives Matter."
"Altruism works best," Phelps said. "We can more effectively reach our goals if we come together."
Even Bikers for Trump, an organization that promotes peaceful rallies and events nationwide to show support for Donald Trump made an appearance in Public Square Wednesday afternoon.
Stock chart: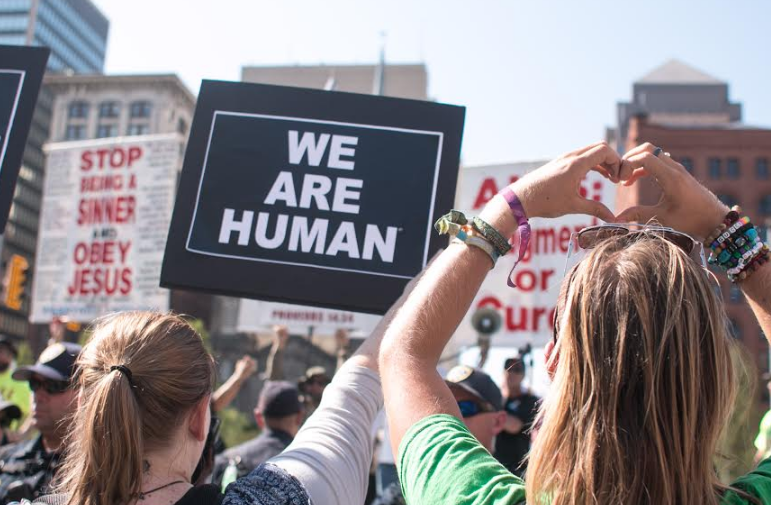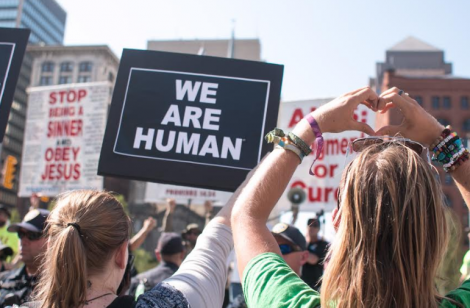 Posted-In: Donald Trump Republican National Convention RNCNews Politics Events Exclusives General Best of Benzinga
View Comments and Join the Discussion!