A Potential Warren VP Pick May Dry Up Wall Street Donations For Hillary Clinton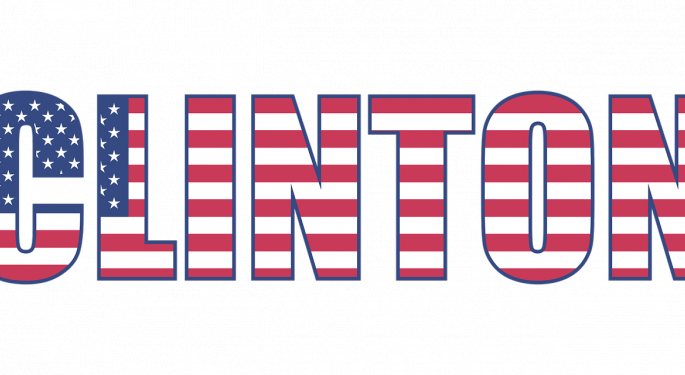 Fundraisers have warned that if Hillary Clinton chooses the Massachusetts senator Elizabeth Warren as Vice Presidential nominee, donations will dry up, according to a Politico report.
Major Democratic donors in the financial services industry remind Warren's attacks on the financial industry and her selection would damage the economy. And they warned that if Clinton surprises them and taps Warren, big donations from the industry could vanish.
"If Clinton picked Warren, her whole base on Wall Street would leave her," said one top Democratic donor who has helped raise millions for Clinton told Politico. "They would literally just say, 'We have no qualms with you moving left, we understand all the things you've had to do because of Bernie Sanders, but if you are going there with Warren, we just can't trust you, you've killed it.'"
Related Link: Hillary Clinton Considering Elizabeth Warren For VP
Politico said the dream deal for Wall Street would be a combination of targeted infrastructure spending that appeal mostly to Democrats and corporate and international tax reform that could bring Republicans along. The fear is that Warren would make such a deal more difficult.
"Clinton is going to face a divided government unless there is a total tsunami," Politico said citing one moderate Washington Democrat with close ties to the banking industry. "What you want in a vice president is someone who can negotiate for you on the Hill, someone like Joe Biden. And that is not a Warren strength."
The report recalls that Warren created the Consumer Financial Protection Bureau that invited the angst of many bankers, and she continues to push for far stronger regulations including breaking up the nation's largest financial institutions into smaller, simpler pieces.
On the economic front, Politico said some moderate Democrats and financial executives worry that having Warren as vice president would spoil relationships between business and the White House from the beginning of a potential Hillary Clinton administration.
Posted-In: Elizabeth Warren Hillary ClintonNews Politics Media General Best of Benzinga
View Comments and Join the Discussion!