4 Polls Point Toward A Brexit: Government Yields Hit Historic Lows, Pound Bottoms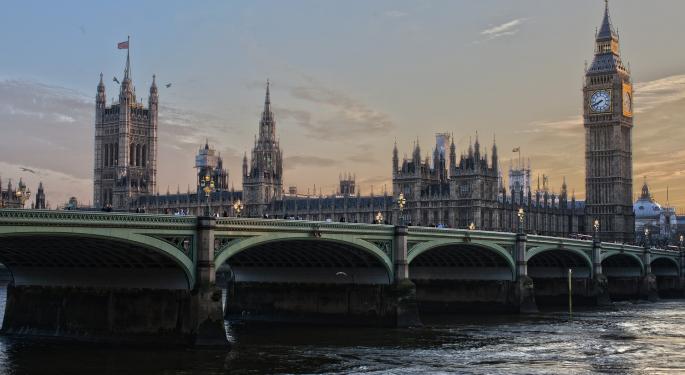 Fears of a Brexit are rising and having a strong impact on global financial markets.
On June 23, the U.K. will decide if it remains a part of the E.U. and the prospect is gloomy for those in favor of a no-go regarding the departure. Four separate polls recently concluded the majority of voters now support a Brexit.
Two polls conducted by ICM showed the "leave the EU" position had now a 5 to 6 points lead over the "stay" stance. Another study from YouGov suggested 46 percent of voters supported a Brexit, versus only 39 percent that back a "Bremain." Finally, consulting firm ORB said 49 percent of respondents supported a Brexit, while 48 percent were in favor of the U.K. remaining a part of the E.U.
Related Link: What's Going On With The VIX?
So, while there are some large differences between the level of support of a Brexit, all four polls showed voters favor a departure.
One way or another, markets aren't happy about the potential Brexit. On Tuesday, the British Pound hit an eight-week low of $1.41, after losing 0.72 percent. Also impacted by the increased likeliness of a Brexit were U.S. Treasury yields, which hit a four-month low on Tuesday, "as growing fears about Britain leaving the European Union weighed on risk appetite and further pared expectations of a Federal Reserve interest rate hike this year," Reuters said. Benchmark 10-year U.S. Treasury notes fell to yield 1.567 percent.
Moreover, British government 10-year yields tumbled to a record low of 1.131 percent, Japanese 10-year yields also hit record lows of negative (0.168) percent, and German 10-year government bond yields plummeted below zero for the first time overnight, reaching too an all-time low of negative (0.03) percent.
View Comments and Join the Discussion!
Posted-In: BrexitNews Eurozone Politics Treasuries Markets Media General Best of Benzinga