Bill And Melinda Gates Foundation Teams With Private Sector To Fight Zika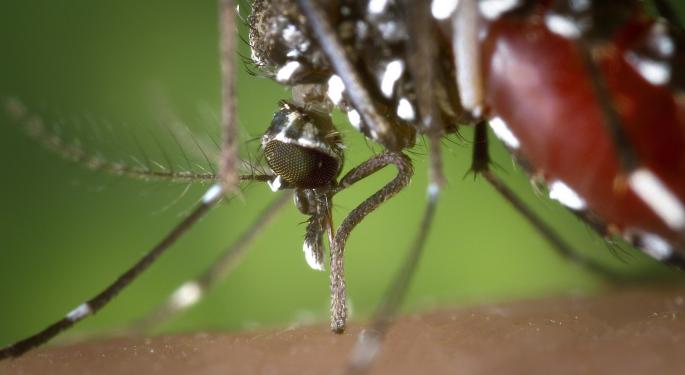 Bill and Melinda Gates Foundation have partnered with the private sector to fight Zika amid the World Health Organization (WHO) warnings that people living in Zika-affected nations to delay pregnancy due to the virus' potential impact on children, according to a report on Fox Business Network.
"I think it's a good warning and I very much respect that the WHO came out that way," Bill and Melinda Gates Foundation CEO Sue Desmond-Hellman told the FOX Business Network's Maria Bartiromo.
The report said the Foundation "has set up programs to boost collaboration with the private sector in the battle against viruses such as Zika."
Related Link: Weighing Zika's Global Spread Risks Ahead Of Brazil Olympics
"We have tools to go to a company and say, 'Look, if you work on Zika, if you work on Malaria with the charitable intent, we'll invest in your company, we'll give you a grant, we can do what's called a volume guarantee to backstop their capital or use tiered pricing where they can have different prices in richer countries or poorer countries and in using these tools we can collaborate with private industry to get them to work on the causes we care about,'" Desmond-Hellman commented.
Desmond-Hellman explained why the fight against Zika is such a priority for the Foundation.
"One of our big areas of focus is infectious diseases, particularly the ones that affect the poor, so Zika is the kind of thing that we care deeply about," she noted.
"The issue with Zika virus is that in many people it's a mild illness, not something to worry about. But the problem with Zika is if pregnant women get Zika virus, their babies can have a significant, severe, birth defect," added Desmond-Hellman.
Desmond-Hellman also warned that the United States needs to be prepared as summar is peak mosquito season.
View Comments and Join the Discussion!
Posted-In: Bill and Melinda Gates Foundation Bill Gates Fox Business NetworkNews Health Care Travel Media General Best of Benzinga