WWE Wants Rowdy Ronda Rousey Back In Its Ring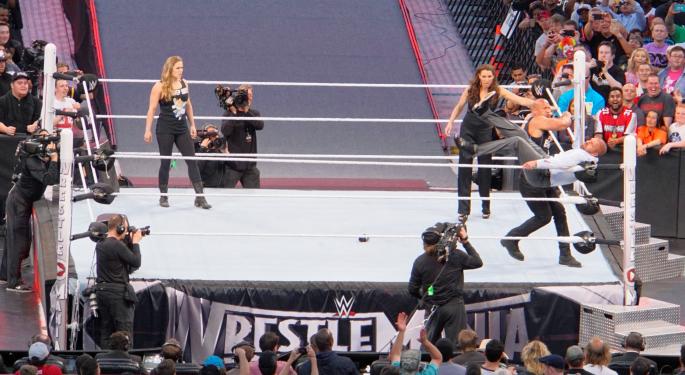 Ronda Rousey made a memorable appearance at Wrestlemania 31 in 2015. Vince McMahon would like her to do it again.
UFC and World Wrestling Entertainment, Inc. (NYSE: WWE) might be closer to working together than ever before.
"According to sources," Forbes reported, "WWE is hoping that by allowing Lesnar to compete at UFC 200 (and perhaps beyond) it will open the doors for some things in return from UFC. Mainly WWE is hopeful for two things in return. For one, they are hoping not only to get additional promotion for SummerSlam, likely at UFC 200, but are also looking to get UFC stars to appear at the event."
Related Link: Brock Lesnar, WWE's Biggest Star, Is Returning To UFC For One Night
Brock Lesnar competed in UFC from 2008-2011, forced into retirement due to diverticulitis. He returned to WWE in 2012 and has been one of the company's highest-paid and biggest drawing stars.
Lesnar will fight Mark Hunt on July 9 in Las Vegas. Forbes says WWE is hopeful they will be allowed to use Rousey at WrestleMania 33 in Orlando, Florida.
"UFC may be more inclined to work with WWE to allow that due to WWE working with UFC for the Lesnar/UFC 200 fight," the report said. "UFC also recognizes the promotional power of being prominently featured at an event as monumental as a WrestleMania and clearly sees value in securing heavy promotion for the UFC brand during the show. This could include advertising, sponsorships and plenty of camera time for UFC stars appearing at the event."
Image credit: Miguel Discart, Flickr
Posted-In: Brock Lesnar Ronda Rousey SummerSlam ufcNews Rumors Sports General Best of Benzinga
View Comments and Join the Discussion!