Wall Street Displeased With Trump's Call To Denudate Dodd-Frank Law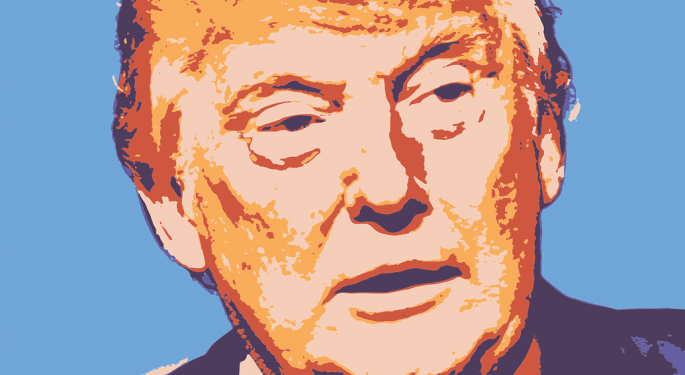 U.S. banking lobbyists disagree with presidential candidate Donald Trump's call to scrap President Barack Obama's Dodd-Frank law, despite Trump's justification (and some shared sentiments) that the law is overly burdensome, according to a Reuters report.
The Dodd-Frank law, which was enacted after the 2007–2009 financial meltdown, restricted banks' "ability to make risky investments and gave regulators new power over Wall Street executives' pay."
Things Will Get Messy
In an interview with Reuters, presumptive Republican presidential nominee Trump said, "Dodd Frank has made it impossible for bankers to function."
But, experts feel that outright repealing won't serve the purpose and would make regulatory environment "messy."
Related Link: Donald Trump Makes The Case Against Breaking Up Big Banks, Repealing Dodd-Frank
"It certainly needs some perfecting," Richard Hunt, head of the Consumer Bankers Association, a Washington trade group, told Reuters.
"To have an outright repeal of Dodd-Frank I don't think would serve the banking industry or consumers," Hunt added.
Messes Will Come In All Different Forms
As an example of the type of mess the repeal would create, Hunt mentioned that scrapping Dodd-Frank "would end the Consumer Financial Protection Bureau, which was created by the law, and it would be unclear which agency would take over its oversight of consumer products such as mortgages," Reuters stated.
The report said, "Banks still want tweaks to the rules, such as simpler capital requirements — which limit banks' reliance on debt for funding." However, the report cautioned, "There could be risks for the banking industry should Trump or a Democratic successor to Obama push for a reopening of Dodd-Frank following the Nov. 8 election."
Meanwhile, citing a note from a policy analyst with Guggenheim Partners Jaret Seiberg, Reuters said, "One reason banks fear pushing for a complete overhaul of the Dodd-Frank law is the possibility that it could be replaced by even tighter regulations."
"The odds favor Trump's solution being even more onerous for large financial firms than the status quo," Seiberg said.
Related Link: How Trump Could Cause A Recession, Even If He Loses The Election
Trump's criticisms toward Dodd-Frank "far overstated the problems with the law," an anonymous source with regulatory banking issues told Reuters.
"Most thinking people in the industry would dispute these characterizations [...] Are some pieces of Dodd Frank problematic? Yes. But there is, on balance, more good than bad," the source stated.
In conclusion, Reuters stated, "Former U.S. Representative Barney Frank, a Massachusetts Democrat for whom the law is named, said Trump's comments could backfire due to voter antipathy toward Wall Street."
"He says he'll be enemy of Wall Street, and he's giving Wall Street what it most wants," Frank elaborated.
Posted-In: 2016 presidential election Barack Obama Consumer Bankers AssociationPolitics Top Stories Economics Media General Best of Benzinga
View Comments and Join the Discussion!