Amid Wage Disparities And Political Concerns Over Jobs, Top CEOs Bring In Beaucoup Incomes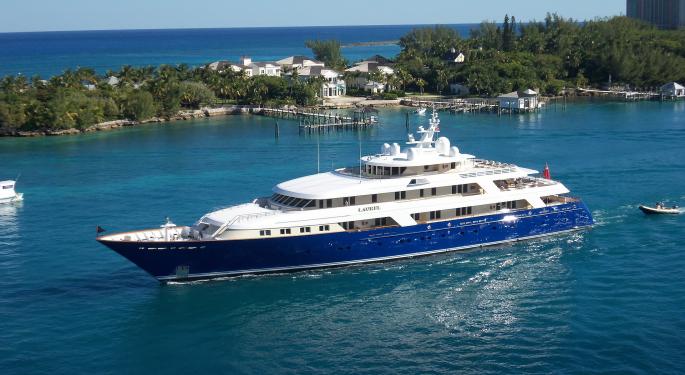 The United States' top 500 chief executive officers took home an average of $12.4 million last year, and their earnings were approximately 340 times higher than the average worker's wages last year, according to a new report from AFL-CIO.
335:1
According to the report, production and nonsupervisory workers earned only an average of $36,875 in 2015, bringing the CEO-to-worker pay ratio of 335 to 1.
Related Link: What Schools Need To Be Teaching, According To Michael Bloomberg And Jamie Dimon
The report said the three highest-paid CEOs were Joe Kiani of Masimo Corporation (NASDAQ: MASI) at $119.2 million, Timothy Walbert of Horizon Pharma PLC (NASDAQ: HZNP) at $93.3 million and Gamco Investors Inc (NYSE: GBL)'s Mario Gabelli at $88.5 million.
Job Concerns And Wage Disparities
The survey comes as jobs and wage disparity have been key points in the recent presidential campaigning. Both the Republican presidential candidate Donald Trump and Democratic rival Bernie Sanders have criticized outsourcing blue-collar jobs to Mexico and China, the Guardian commented.
The AFL-CIO report said for every domestic job lost in the United States, the companies create nearly seven jobs overseas, according to Bureau of Economic Analysis data.
A Guardian report on the data highlighted Mondelez International Inc (NASDAQ: MDLZ), which makes Oreos and Chips Ahoy!, as it has announced plans to move 600 jobs from Illinois to Mexico.
Related Link: Landry's And Jefferies CEOs' "Bromance" Relationship Will Create A New Special Purpose Acquisition Company
"They quit me. I didn't quit them. It used to be that places like Nabisco were proud places to work, but now workers like me are tossed to the curb despite years of dedication," the report said, quoting Mary Willis, one of the nearly 300 people laid off by Mondelez in March.
In 2015, Mondelez CEO Irene Rosenfeld received $19.67 million in total compensation and made 534 times the average nonsupervisory worker's pay of $36,865 in 2015.
Corporate Taxation
The AFL-CIO report also touched on the corporate taxes and said the effective tax rate is lower than many developed countries.
"Corporations like to complain that their federal income tax rates are too high. But lost amid the clamor to cut taxes for corporations is the fact that many U.S. corporations are not paying taxes on their offshore profits," the report highlighted.
View Comments and Join the Discussion!
Posted-In: 2016 Presidential Elections AFL-CIO Bernie Sanders Donald TrumpNews Politics Management General Best of Benzinga