After SunEdison, Twitter Users See Valeant Filing Bankruptcy Next…Not SandRidge Or Another Solar Player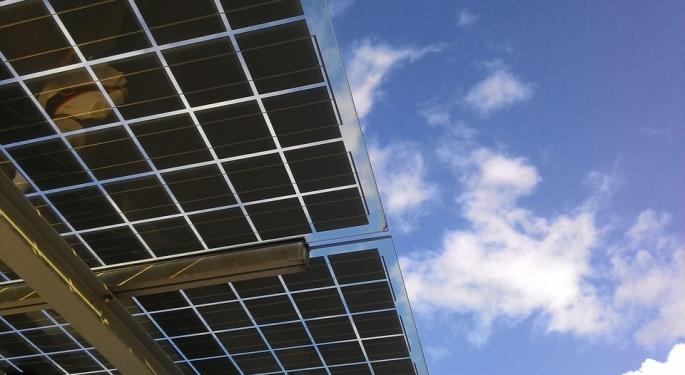 Sunedison Inc (NYSE: SUNE) is off to a rough start this week, down more than 50 percent in early Monday trading, currently trading around the $0.23 handle.
It's no real surprise that the issue is having trouble, as reports have been swirling regarding the company's plans to file a Chapter 11 bankruptcy.
According to Dow Jones, "The company is preparing a chapter 11 filing and is in talks with two creditor groups to obtain a loan to fund its operations during the process."
"Creditors are likely to take control of the company and its portfolio of power projects," the report continued.
Related Link: SunEdison Nears Penny Territory After Bankruptcy Report
Are More Bankruptcies On The Horizon?
While SunEdison may be stealing the spotlight for bankruptcy talks, it is not the only name to have had a series of bad press lately.
SandRidge Energy Inc. (OTC: SDOC) has been "mulling" filing for bankruptcy, according to Business Finance News.
"In its 10 filing on Wednesday (March 31), SandRidge Energy Inc. (OTC: SDOC) said it could be forced into bankruptcy amid low energy prices. Its shares currently trade at $0.0455, down by 39.91 percent," Business Finance News' Camilla Pritchard stated.
MannKind Corporation (NASDAQ: MNKD) is also being mentioned in the same sentance as bankruptcy, if speculation from one writer on Seeking Alpha is to be believed.
"MannKind Corporation has been a battleground stock for years," Maxwell began. "I previously wrote an article, which can be found here, on why I think MannKind is unfortunatley headed for bankruptcy. Events since that article have only strengthened the case."
What About Valeant?
Another company that can't seem to escape bankruptcy chatter is Valeant Pharmaceuticals Intl Inc (NYSE: VRX).
In mid-February, Wells Fargo analyst David Maris stated that Valeant had a 58 percent likelihood of filing in 2015.
Benzinga Polls Twitter
Amid all of these talks, Benzinga turned to Twitter to see what the twitterverse had to say about which name is likely to file next.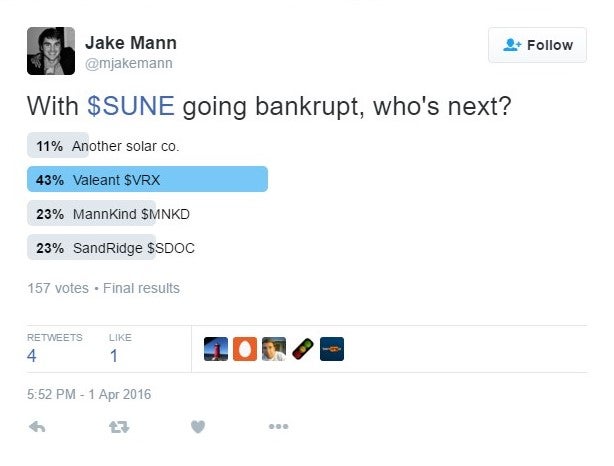 Tweeters provided their imput, with 43 percent of respondents saying Valeant will have that illustrious honor.
MannKind and SandRidge took 23 percent of votes, respectively, and "another solar company" came in at 11 percent of votes.
Posted-In: News Education Short Ideas Rumors Commodities Crowdsourcing Top Stories Markets Best of Benzinga
View Comments and Join the Discussion!