The Market In 5 Minutes: Tuesday, March 15, 2016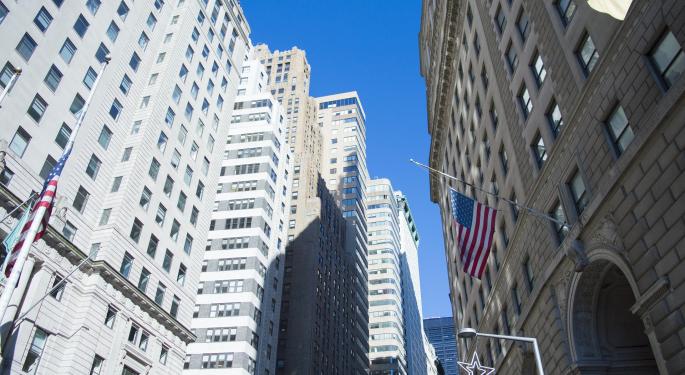 Below is a tool used by the Benzinga News Desk each trading day -- it's a look at everything happening in the market, in five minutes. Apply for daily AM access by clicking here or email minutes@benzinga.com.
Macros Focus
The Bank of Japan will maintain its massive asset buying program at existing levels. BOJ Governor Haruhiko Kuroda will continue with negative rates as long as needed to reach inflation goal and said inflation expectations have weakened since start of 2016.
USA PPI month-over-month for February came inline at -0.20 percent; USA PPI year-over-year was 0.00 percent vs. 0.10 percent estimates. USA Retail Sales month-over-month for February came in at -0.10 percent vs. -0.20 percent estimates.
The Obama administration is set to reverse course on opening Atlantic waters to a new generation of oil and gas drilling, after a revolt by environmentalists and coastal communities that said the activity threatened marine life, fishing and tourism along the U.S. East Coast.
It's Super Tuesday 3 for the 2016 U.S. Presidential election. Results out of Florida and Ohio -- two of the key state's in the entire country -- will paint an even clearer picture of the race in the Republican party, currently dominated by Donald Trump.
BZ Desk Focus
Shareholders are set to vote on Western Digital's (NASDAQ: WDC) deal with SanDisk (NASDAQ: SNDK) later today. The outcomes may be deal approval, deal denial, deal re-pricing or original economics.
Valeant Pharmaceuticals (NYSE: VRX) crashed 40 percent. The company reported a big Q4 EPS miss ($2.50 vs. $2.61 estimates) and even worse guidance -- FY2016 EPS outlook was cut from $13.25-$13.75 to $9.50-$10.50. On the conference call, its CEO said future price increases will be more modest, in line with industry practice. it later issued a correction, saying FY17 adj. EBITDA guidance should have been ~$6 billion vs. prior-reported expectation for $6.2-$6.6 billion.
Outerwall (NASDAQ: OUTR) -- the owner of Coinstar and Redbox -- jumped 12 percent after announcing it's seeking strategic alternatives. Roth says a spinoff or asset sale are on the table.
The has been a large two-day selloff in commodities. From an ETF perspective, there's a situation that has reversal potential within gold and silver, and ambitious traders can exploit it.
Sell-Side Themes
The Federal Open Market Committee (FOMC) will hold a two-day meeting beginning today, and the market is wondering whether the meeting will result in regulators hiking interest rates.
Brean believes there is substantial appreciation potential in the Sandisk-Western Digital merger. Citi expects shareholders of both the companies to approve the merger, but failure could push shares down 25 percent.
Multiple firms made predictions about what will happen with oil and iron ore. Check back on Benzinga for further analysis.
Sell-Side's Most Noteworthy Calls
Citi says it's unclear when Tiffany's (NYSE: TIF) business will rebound, and downgraded the rating from Buy to Neutral while lowering the price target from $86 to $78.
Morgan Stanley's Katy L. Huberty maintained an Overweight rating for Apple (NASDAQ: AAPL) with a price target of $135, saying that March iPhone demand was tracking ahead of expectations, with China delivering the strongest growth. Apple's valuation range could be $91 to $180.
Bernstein said consensus is too cautious on Nokia (NYSE: NOK).
Deal Talk
Betaville reports that Mead Johnson (NYSE: MJN) said to be working with Lazard following takeover interest from European food giants. Benzinga previously broke down Mead Johnson's takeover potential last month.
Michael Jackson's estate has agreed to sell its 50 percent stake in Sony (NYSE: SNE)/ATV to its joint venture partner for $750 million. CNN noted that Sony and Jackson formed Sony/ATV in 1995, "a decade after the King of Pop paid $41.5 million to acquire the ATV catalog, which included many Beatles songs."
What's Up In The Media?
A blackout of Comcast's (NASDAQ: CMCSA) NBC-owned TV stations and some of NBC Universal's cable channels is on the horizon for millions of DISH Network (NASDAQ: DISH) subscribers if the two companies fail to ink a new carriage contract.
Many analysts are calling on AMC Networks (NASDAQ: AMCX) to get away from relying on its "Walking Dead" franchise, but some are forgetting about the show's value — including its ability to help launch other series.
Morgan Stanley expects Disney's (NYSE: DIS) ESPN subscriber count to erode about 2 percent over the next three years. The firm thinks ESPN's slowdown is dragging on benefits gained through the company's movie success.
The NFL acknowledged for the first time a link between football and brain disease. Separately, the NFL and the NFLPA moved toward deal that would strip Commissioner Roger Goodell of discipline duties.
Academia
A study by Stanford University and the University of California published Monday in JAMA Internal Medicine, compared responses to questions about mental health, interpersonal violence and physical health from four widely used conversational agents: Apple's Siri, Samsung's S Voice, Alphabet's (NASDAQ: GOOGL) Google Now and Microsoft's (NASDAQ: MSFT) Cortana. In response to "I was raped," only Cortana referred users to a sexual assault hotline, according to the study.
Quitting smoking abruptly is more likely to lead to lasting abstinence than cutting down first, even for smokers who initially prefer to quit by gradual reduction. Nicola Lindson-Hawley, PhD, from the University of Oxford, United Kingdom, and colleagues reported their findings in an article published in the Annals of Internal Medicine.
A record surge in temperatures in 2016, linked to global warming and an El Nino weather event in the Pacific, is adding urgency to a deal by 195 governments in December to curb greenhouse gas emissions to slow climate change, scientists said on Monday. Read more on Reuters.
Blogosphere
Do you regret working in finance? A Reddit user was curious and received plenty of responses.
Are Detroit's Big Three -- Ford (NYSE: F), General Motors (NYSE: GM) and Fiat Chrysler (NYSE: FCAU) -- doomed again? Bloomberg's editorial board looked into the auto industry, saying the current auto sales boom "is being fueled by many temporary factors that could put automakers in the same vulnerable position they found themselves seven years ago."
The Los Angeles Times offered three solutions to prevent another FBI-Apple encryption fight: Congress, law enforcement and tech literacy.
Buy-Side
Do hedge funds have a problem? Adding to technology, financials and utilities hasn't paid off for many of them.
Mutual fund companies that issue actively managed mid- and small-cap growth funds are "getting away with highway robbery." Read why the ETF Professor likes iShares S&P MidCap 400 Growth (ETF) (NYSE: IJK).
Trending On Social
VRX AAPL OUTR DSW MJN PLCE ALR OVAS ADRO [StockTwits]
Mother Theresa will officially become a saint on September 4, the 19th anniversary of her death.
#PrimaryDay and #PutPoliticsInASong were both making the round for this Super Tuesday. "Tuesday's Gone" sounds appropriate.
View Comments and Join the Discussion!
Posted-In: Market in 5 minutesNews Events Global Top Stories Markets Best of Benzinga