What Makes This Online Dating Company Spark Up Investor Romance?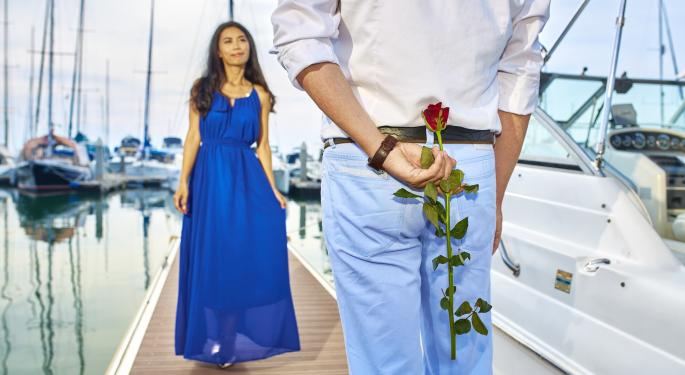 With 15 percent of U.S. adults saying they've used online dating sites or mobile dating apps, according to Pew Research Center, the space is clearly growing.
SNAP Interactive (OTC: STVI) notes that it is profitable and cash flow positive. Furthermore, according to CEO Alex Harrington, the company has an ambitious growth plan and expects to take advantage of its strong international presence.
Harrington spoke recently with Benzinga about the company and its future.
Related Link: Why The Online Dating Business Is Going To Be Much Bigger Than Anyone Expects
Benzinga: Can you give us a snapshot of what SNAP Interactive looks like right now?
Alex Harrington: SNAP is an interactive dating holding company. We have two products but think of ourselves as sort of a 'portfolio in the making.' At the core of SNAP is what we believe to be one of the largest user databases in the industry. We've acquired tens of millions of users over the life of the company.
We just rebranded our legacy product, "AYI." AYI is now FirstMet and includes many improvements in the application on web and mobile. FirstMet (as AYI) was built on the Facebook Inc (NASDAQ: FB) platform in 2007 and addresses a mature adult audience over 35. It has about 86,000 subscribers. It's a premium product and its orientation is really around providing a more entertaining experience.
The "Grade" was released about a year ago and is a mobile first product on Android and iPhone platforms. It addresses the mobile Millennial audience and serves as an antidote to Tinder.
BZ: What do you mean, "antidote to Tinder?"
Harrington: Tinder has had a tremendously successful adoption arc but in the process has alienated a lot of users. That's because it fosters an environment where people can be rude or overly sexually explicit.
The Grade monitors user behavior which normally would be behind the scenes. Most importantly it allows users to give feedback (grades) on their interactions with other users. It creates a certain accountability.
BZ: What do you think is driving the growing interest in online interactive dating?
Harrington: Companionship is a fundamental need. The Internet promises to make the world better for people in every possible dimension of their lives so it's not surprising that technology is seeking to serve people in that area of their life.
The way dating sites try to address that is simply by increasing the efficiency of interactions between people. If you can be in your pajamas and flirt with women that makes it a lot easier than getting a shower, fixing your hair, going out, parking the car and so forth.
Plus, you can expand your reach and interact with people you would otherwise never meet. It's an enormous benefit.
BZ: Is there a common bottom line goal for users on all online dating sites or does it vary?
Harrington: I think every dating site might give you a different answer. That's one of the axes of differentiation between products.
For example, FirstMet is about making introductions. It's about providing exposure to many people and essentially making it easier to interact with them in order to see what sticks.
Traditional dating sites are more like the high school dance were the boys are on one side of the girls are on the other. FirstMet is kind of like the town square dance where everybody do-si-do's with everybody else.
BZ: What do you see as the current state of the interactive online dating space?
Harrington: The online dating industry is as hot as it could possibly be. Match Group Inc (NASDAQ: MTCH) going public with a successful IPO is turning interactive dating into an investable category for the first time.
Now there aren't just a couple of microcaps like SNAP and Spark. Now there's, arguably, a blue chip player. The space has more eyeballs on it than ever.
User adoption curve is going from 10 percent in 2013 to, I believe, a near future in which you will see 50 percent of single people using interactive dating products.
BZ: Where does that put SNAP?
Harrington: Anyone can grow a direct marketing business if you have unlimited money. We're in a situation where we're adequately funded but not flush with cash.
The question then was, "How can we grow the business in a lean efficient way, capitalizing on our strength and the assets that we already possess?
BZ: Great question. What's the answer?
Harrington: SNAP has some really interesting catalysts in the sense we have a very strong, large user database. We're doing things to refashion and commercialize that database.
We're starting with the rebrand of AYI to FirstMet. We believe FirstMet has a little more resonance and communicates more of the intrinsic value of the product.
This will make the product more efficient, more effective when it comes to acquiring new users and reengaging our existing users.
In the late summertime frame we will be launching a new product. Our platform can be replicated and reintroduced in parallel as a new product with modest changes designed to address a different but overlapping audience.
BZ: What specific new areas will addressed?
Harrington: I will call out three.
One is the seniors market. It is sort of adjacent to but not precisely addressed by FirstMet. We cross sell our properties to third-party dating sites that our users are interested in and those sites address the seniors market.
There is also the serious relationship space. We're more at the casual end of the spectrum that's really just about meeting people. Products like e-Harmony are an example of the serious relationship area.
Finally, there's international. We've never localized our products for international markets. Nearly 50 percent of our revenue for FirstMet is in foreign markets but it tends to be the English-speaking world outside the U.S.
We might actually rebrand it under a new name in order to make it more marketable in these growth areas around the world where English isn't spoken.
Related Link: Ditching Dating Stocks? Barclays Downgrades Match Group
BZ: International sounds like a challenge. What about the need to address cultural and language differences?
Harrington: Certainly there are some markets that have very different cultural approaches to interactive dating. India is one where interactive dating is centered around arranged marriages.
There are, however, many places in the world where the product need not be modified much at all. We do very well, for example, in the UK and Australia.
You might say that's not culturally very different from the U.S. but we also do very well in Scandinavia, where English is commonly spoken as a second language. We've also seen really good adoption in our testing in Mexico and other parts of Latin America.
We plan to explore the lowest hanging fruit initially. Given the fact our product is 50 percent international without ever having made adjustments, we are confident we can do it.
At the time of this writing, Jim Probasco had no position in any mentioned securities.
Image Credit: Public Domain
Posted-In: Psychology Topics Success Stories Exclusives Markets Tech Trading Ideas Interview Best of Benzinga
View Comments and Join the Discussion!