Buffett Plans To Give Any Employee Who Picks Perfect Sweet 16 $1M A Year For Life: What Are The Odds?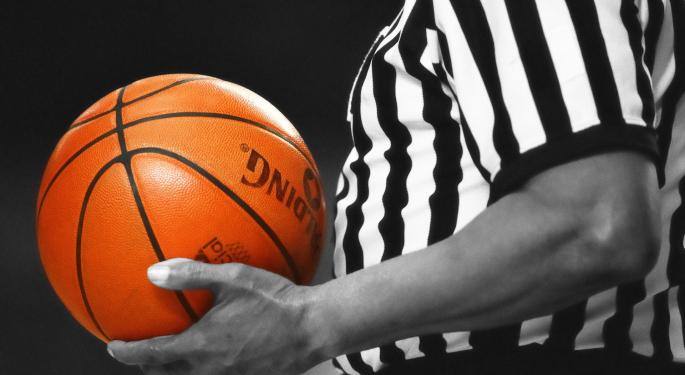 It's that time of year again when everyone with any level of knowledge (or no knowledge whatsoever) sits down and spends anywhere between a few minutes and a few sleepless nights agonizing over their NCAA March Madness bracket.
Certainly there's a lot of variables involved, but how difficult could it possibly be for a true college hoops fan to pick a perfect bracket?
Once again this year, Berkshire Hathaway Inc. (NYSE: BRK-B) (NYSE: BRK-A) CEO and Wall Street icon Warren Buffett is making a big bet that picking a perfect bracket is a lot harder than it looks. In the past, Buffett has offered $1 billion to anyone that picks a perfect bracket.
This year, he has pledged to pay $1 million per year for life to any Berkshire Hathaway employee or any employee of its numerous subsidiaries that picks even the first two rounds of the tournament correctly.
Related Link: 11 Things We Learned From Warren Buffett's Annual Shareholder Letter
While a five-round tournament of skill may not seem all that difficult to predict, it's a safe bet that you nor anyone you've known has ever picked a perfect bracket. In fact, last year, Duke math professor Jonathan Mattingly estimated that the true odds of picking a perfect bracket are 1 in 9,223,372,036,854,775,808. That's right: the odds of correctly picking the entire tournament are more than one in 9.2 quintillion, a statistic that Warren Buffett probably knows all too well.
Last year, only one out of 11.5 million ESPN Tournament Challenge entrants got even the entire first round of the tournament perfect.
Disclosure: The author holds no position in the stocks mentioned.
Image Credit: Public Domain
Posted-In: ESPN Jonathan Mattingly March Madness NCAANews Education Events General Best of Benzinga
View Comments and Join the Discussion!