OPEC Production Cut Talks Sends Oil Surging Higher; Saudi Arabia Calling For 5% Cut?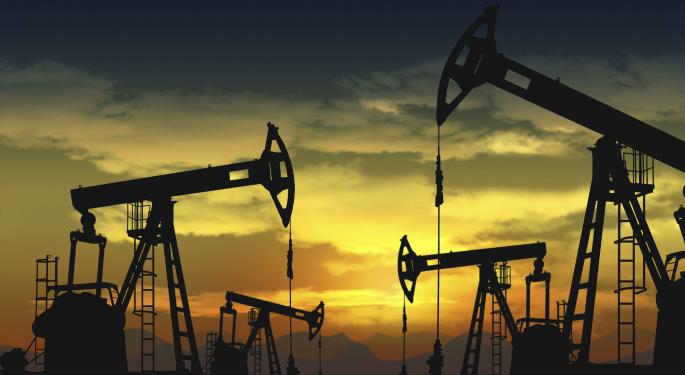 The price of a barrel of oil surged higher on Thursday and hit a three-week high following reports that OPEC nations will gather in February to potentially discuss a cut in oil production.
According to Reuters, Russia's Energy Minister Alexander Novak said that it is "reasonable" to discuss the ongoing decline in oil prices.
Russia isn't officially a member of OPEC, but has been invited to meetings as an observer.
Sputnik News, a Russian-based media publication, reported that Novak met with leaders of the Russian oil and gas sector on Wednesday. The discussions included possible coordination with OPEC members to help boost the price of oil
Meanwhile, OPEC member nations such as Nigeria and Venezuela have called for oil production cuts to help boost the price of the commodity higher. Reuters noted that until this week there were "few signs" that such an event would occur.
Related Link: In This Bearish Environment, Why Are Pros Long Oil?
Saudi Arabia's deputy minister for company affairs at the Ministry of Petroleum and Mineral Resources said on Thursday that according to OPEC estimates, there is a global oversupply of around 2 million barrels per day.
The United States Oil Fund LP (ETF) (NYSE: USO) was up 5.3 percent at $9.67, while VelocityShares 3X Inverse Crude ETN was down more than 16 percent.
Iran Has No Interest In Any Production Cut Agreement
According to a separate report from Reuters, Iran wants to regain its prior status as the second largest OPEC oil producer behind Saudi Arabia. The publication, citing "a source familiar with Iranian thinking," noted that Iran lost out on 1.1 million barrels per day it could have exported due to international sanctions that are now lifted.
Iran plans on increasing its oil output by 500,000 barrels per day and boosting exports, making any agreement among OPEC nations to slash its output incrementally difficult to achieve.
"Any deal is difficult to reach," a non-Iranian OPEC source told Reuters. The source suggested any potential production cut deal would imply Iran would need to keep its output flat or raise it by 100,000 barrels per day.
Finally, Reuters suggested that "it is too early" to determine if OPEC members can reach any agreement to cut production. Nevertheless, OPEC's Gulf members "are not overly concerned" by Iran's boosted exports.
UPDATE: Bloomberg posted a headline shortly at 10:35 a.m. EST that said OPEC Gulf Reps Saying Saudi's Have No Proposal To Cut Output By 5%
View Comments and Join the Discussion!
Posted-In: Alexander NovakNews Rumors Commodities Global Top Stories Markets Movers Best of Benzinga