Pope Francis Says Social Media, iPhone And Internet Are A 'Gift Of God'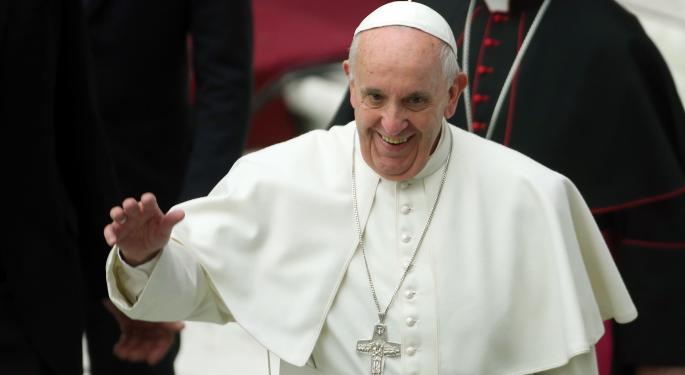 The pope might not be the most tech-savvy person around, but he understands the importance of technology.
"Emails, text messages, social networks and chats can also be fully human forms of communication," Pope Francis said in his message for the Roman Catholic Church's World Day of Communications, as reported by Reuters. "It is not technology which determines whether or not communication is authentic, but rather the human heart and our capacity to use wisely the means at our disposal."
Coincidentally, Pope Francis was scheduled to meet with Apple Inc. (NASDAQ: AAPL) CEO Tim Cook for a private discussion. The agenda for the meeting is unknown. 9to5Mac noted that, "The meetup is likely related to visits the Pope has been receiving from other tech giants. Francis met Eric Schmidt, Alphabet (Google's) chairman last week. It could just be a cordial exchange of greetings."
Sky News reporter Tom Cheshire tweeted, "Tim Cook now meeting the Pope, which has been in works for some time. Both very keen environmentalists."
Reuters went on to note that Francis admitted last year he was embarrassed he didn't know how to use computers and was a "disaster" with technology. He has also said smartphones should be banned from the family dinner and children shouldn't have computers in their rooms.
Pope Francis' official Twitter Inc (NYSE: TWTR) account -- @Pontifex -- has 8.4 million followers. He also has multiple other twitter accounts for different languages. He doesn't have an official Facebook Inc (NASDAQ: FB) page. Huffington Post said in 2014 this is because Archbishop Claudio Maria Celli, who directs the Church's media strategy, said Facebook is a "no-go [because] the powers that be are worried about abusive comments."
Papal Wikipedia pages have been some of the most edited Wikipedia pages over the past 15 years, according to FiveThirtyEight.
View Comments and Join the Discussion!
Posted-In: iPhone Pope Francis social mediaNews Events Global Top Stories Tech Best of Benzinga