RealtyShares Has Returned More Than $10 Million To Investors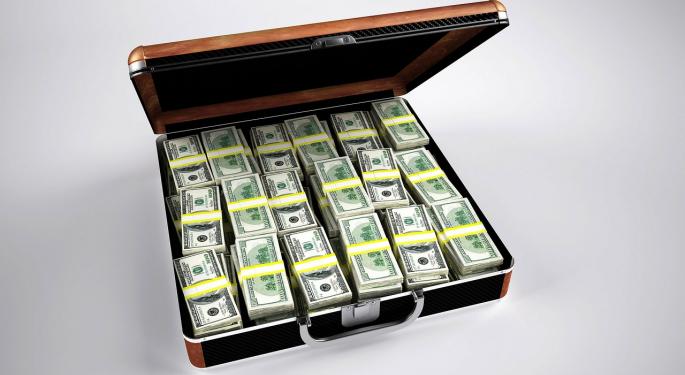 RealtyShares said it has returned more than $10 million to investors.
According to RealtyShares, offering a range of investment and financing options is a key to its success.
Real estate and platforms like RealtyShares have become an attractive choice for investors looking for alternatives to unstable stocks and low-yield bonds.
Online real estate crowdfunding marketplace, RealtyShares, just announced it has returned more than $10 million in investor contributions.
All this from a company that allows accredited investors to buy in for as little as $5,000.
Benzinga spoke with RealtyShares founder and CEO Nav Athwal about how the real estate crowdfunding market provides individual investors, in Athwal's words, an "easy, affordable and potentially profitable way to secure solid returns."
Related Link: Boring Is The New Sexy When It Comes To Crowdfunded Real Estate
Benzinga: What is RealtyShares?
Nav Athwal: We provide access to the private real estate market in the same way platforms like E*Trade and Scottrade disrupt and provide access to the stock market.
We provide individual investors a streamlined way to invest as little as $5,000 and do it from the convenience of their laptop or tablet.
We also connect private real estate companies and borrowers with a more efficient way to raise capital than the traditional banking environment.
BZ: How long has RealtyShares been in business?
NA: We've been operating now for about 24 months. In that time, we've now done close to $100 million through the platform through our investors.
We're excited not only about the growth of the platform, but also the success of the deals that we funded through the platform.
BZ: Speaking of success, what's the big news?
NA: The news we are announcing is that in this volatile stock and bond market we've returned $10 million of principle to our investors.
It's been a great way to give investors exposure to a stable asset and provide them with a way to earn real returns and get their money back in efficient ways.
BZ: What types of opportunities do investors have through RealtyShares?
NA: We offer opportunities in residential – and when I say residential I mean single family homes – all the way up to commercial buildings that are $20, $30 million total size.
We found that investors like to see variety. Sometimes they want to invest in a retail asset. Sometimes they want to put money into a multifamily asset. We provide a range of asset types through RealtyShares.
The other thing we do is provide a range of financing options for investors. They can invest as vendors would or they can fund equity, becoming partial owners of the properties. There's a lot of variety.
The returns, obviously, range depending on if it's a commercial or residential property, as well as type of financing. Debt investments generally feature interest rates in the 8-12 percent range, while returns on equity investments can be substantially higher.
BZ: Can you go into a little more detail?
NA: Returns are based on an average of debt, equity investments, commercial and residential.
We found that many investors only like debt. Others just like equity and still others like a mixed bag of investing. Just as you have mixed portfolios of bonds and stocks, we're trying to create the same with our marketplace.
Since, as with any other investment there are no guaranteed results, RealtyShares curates every investment. Out of every 100 potential investments that come to us, only about five make it on to the platform.
BZ: Geographically, where do you invest?
NA: We've done deals in over 60 different cities across 24 states, but tend to see many of our deals in markets that haven't overheated.
We've been very active in Texas, outside Houston, given what's happening with oil and Florida, Tampa Bay, for example, or South Beach as well as Jacksonville. If you look at Chicago, parts of New Jersey, parts of New York, even pockets in Los Angeles – there are many opportunities in those markets. Seattle's another one for us, Portland.
Markets where we see real value – population growth, job growth – not the same overheated real estate markets we've seen in San Francisco or Manhattan over the last three to five years.
BZ: What about residential versus commercial?
NA: Most of the deals we have done have been residential. About 65 percent have been residential, one to four unit as well as multifamily.
We started narrow because we wanted to establish expertise and a foundation in the deals we offer.
Commercial is going to be a bigger part of our marketplace going into 2016 as we expand. To date, however, residential has been a majority of the deals we've done.
BZ: In terms of experience, do you come from a real estate background?
NA: I actually come from a decade's worth of real estate experience. After transitioning from being an engineer, I started my career in real estate as a broker while I was still in college selling properties to earn some extra cash.
I transitioned into mortgage broker, providing borrowers with financing then moved into real estate law. While I was doing that, I started buying properties on my own. This was in 2010 when there were many opportunities to buy properties.
Financing was very difficult. Banks were pulling back. Even going through a simple mortgage process on a property that was worth $300,000 and I was trying to get $150,000 loan took me six months.
I realized there was a broken system there and saw a gap in the market for financing properties in a more efficient way while raising capital from investors who really do want access to the real estate market.
In 2013, I decided to go full time, and now we are team of about 26. We've grown rapidly, we're venture-backed by some prominent VCs in Silicon Valley and I see this as a multi-billion dollar opportunity.
Related Link: RealtyShares Announces Mezzanine Financing Products
BZ: What do you believe has led to growing interest in real estate crowdfunding?
NA: I think there are a couple of different dynamics. One, you see many more people taking their investments in their own hands, getting more comfortable with the Internet as a way to invest and save.
The other thing is that we're coming out of a notoriously low interest rate environment and investors are fed up with earning close to 0 percent.
More are looking to get exposure to alternative investments, where they can actually make double digits and high-single-digit returns.
Because of this, real estate and platforms like RealtyShares have become an obvious choice.
At the time of this writing, Jim Probasco had no position in any mentioned securities.
Image Credit: Public Domain
View Comments and Join the Discussion!
Posted-In: crowdfunding E*TRADECrowdsourcing Top Stories Exclusives Interview General Real Estate Best of Benzinga