Americans Were Driving More Even Before Gas Prices Crashed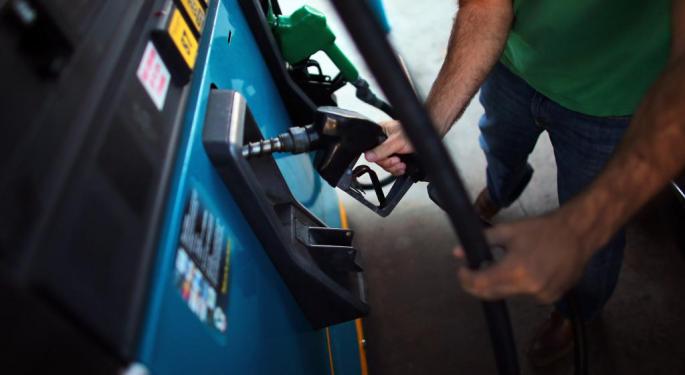 Americans were logging more miles even prior to the oil price collapse.
Several states have already reached the $2.00/gal gas price level.
Gas prices could fall significantly from current levels if the oil supply glut exceeds storage capacity.
As the global crude oil supply glut continues to linger, American drivers seem to be doing all they can do to help eliminate the oversupply. According to the most recent data, U.S. drivers are now logging more miles than they ever have.
Hitting The Highway
This chart shows the relationship between WTI crude oil prices and year-over-year change in total U.S. miles driven. Not surprisingly, many Americans dialed back travel plans during the last recession, but miles traveled has been on the upswing as the economy has recovered.
Just prior to oil's price collapse in 2014, American drivers were already logging more than 1.0 percent more miles than they had the previous year. However, falling oil prices have since driven gas prices to multi-year lows, and Americans have taken advantage of the opportunity for cheap travel by driving about 3.0 percent more miles this year.
Cheap Gas
According to GasBuddy, South Carolina has already fallen below the $2.00/gal level for gas prices. South Carolina ($1.95/gal), Alabama ($2.00/gal) and Mississippi ($2.00/gal) currently offer the cheapest gas of any states in the country.
Lubbock, Texas ($1.90/gal), Myrtle Beach, South Carolina ($1.91/gal) and Chattanooga, Tennessee ($1.91/gal) currently offer the cheapest gas of all major U.S. cities.
Headed Even Lower?
GasBuddy's most recent projections estimate that up to half the gas stations in the U.S. will be charging less than $2.00/gal for gas by the end of 2015. According to a new Goldman Sachs report this week, WTI crude oil prices could potentially reach $20/bbl if the supply glut exceeds the capacity of storage infrastructure. The United States Oil Fund ETF (NYSE: USO) is down 57.2 percent in the past year.
Disclosure: the author holds no position in the stocks mentioned.
Posted-In: gas GasBuddyCommodities Travel Top Stories Economics Markets General Best of Benzinga
View Comments and Join the Discussion!