Could World Peace, With Help From The McWhopper, Save Fast-Food's Reputation?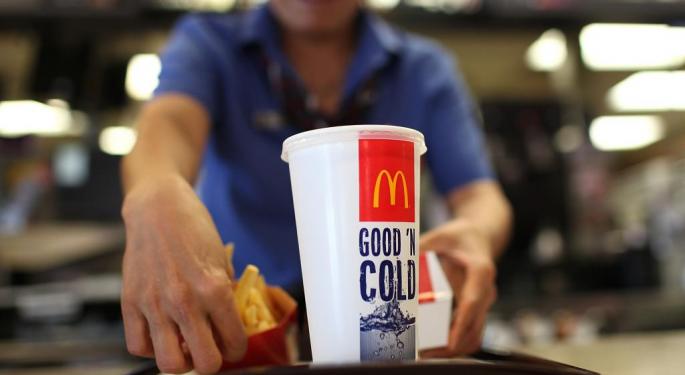 Fast food has taken a beating over the past few years as consumer preferences shifted toward healthier, wholesome foods and ecologically responsible ingredients. Critics lashed out against fast food chains like McDonald's Corporation (NYSE: MCD), claiming that quality of its food was sub-par and that its marketing was unethical and promoting obesity.
However, a new ad campaign from Burger King, a part of Restaurant Brands International Inc. (NYSE: QSR) could put the burger business in a favorable light.
See Also: The Burger Wars: McDonald's Vs. Burger King Vs. Wendy's
A Truce
In full page advertisements released on Wednesday, Burger King called for a burger-war truce with McDonald's. The ad asked that the two to halt their competition with one another and join forces to create an ultimate burger called the McWhopper. The sandwich would be a combination of both chain's iconic offerings— McDonald's Big Mac and Burger King's Whopper.
World Peace
If McDonalds accepts, the sandwich would be created and sold for one day only at a pop-up restaurant in Atlanta, Georgia, a halfway point between the two companies' headquarters. Burger King proposed that the burger be sold on September 21, World Peace Day.
All proceeds from the burger sales would go to Peace One Day, an organization that has been working toward making World Peace Day an internationally recognized day when nations around the globe agree to lay down their weapons for a day of nonviolence in a global cease fire.
Will It Work?
McDonald's has yet to respond to the ad campaign, but it could prove a promising tactic to get the burger chains back into the public's good graces.
Social activism campaigns like this one are often effective in creating a favorable brand image and could go a long way to undo some of the companies' negative press. However, social awareness campaigns also have the potential to backfire, as in the case of Starbucks Corporation (NASDAQ: SBUX)'s "Race Together" campaign earlier this year.
Posted-In: Burger KingNews Restaurants General Best of Benzinga
View Comments and Join the Discussion!