ISIS And Investment: How Terrorism Strikes The Global Economy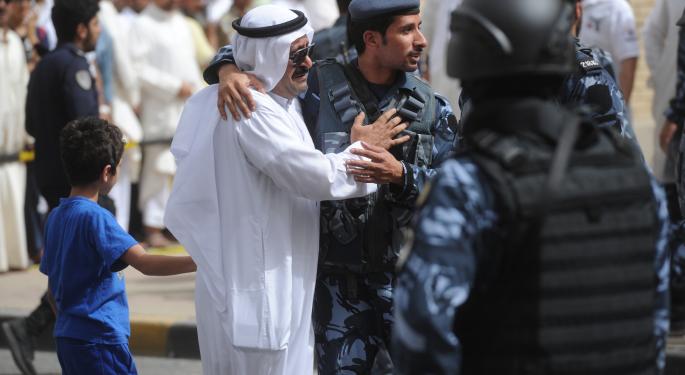 Four coinciding terrorist attacks rocked the world almost simultaneously on Friday morning.
At approximately 10 a.m. in southeastern France, a man who had been flagged for suspected extremist ties in 2006 rammed a car into a gas factory. The collision triggered an explosion, which injured two people. A severed head was found at the entrance to the factory, along with a note and two flags emblazoned with Arabic writing.
Hours later, the Associated Press reported that the Islamic State has claimed responsibility for the suicide bombing of a Shia mosque in Kuwait. At least 16 people were killed in the strike and dozens more were wounded. ISIS has executed similar attacks in nearby Saudi Arabia and Yemen.
Related Link: Spate Of Terror Attacks On 3 Continents Leaves Dozens Dead
Shortly after, news surfaced of a beach-side massacre in the central Tunisian city of Sousse. Two armed gunmen infiltrated a private area outside of two local hotels and opened fire. At least 27 people were killed on site, including foreigners, according to officials. An additional 20 people were injured.
Finally, 30 people died in an Al-Shabab assault on an African Union military base in southern Somalia. Reports are unconfirmed that the terrorist group has taken control of the stronghold. Al-Shabab is currently wrestling with the Somalian government for control over the country.
An anonymous U.S. official said that there is no evidence yet to suggest that the attacks were coordinated.
The Institute for the Study of War has speculated that the Islamic State might seek to commemorate its one-year anniversary on June 29 with a major demonstration of power. La Vanguardia, a Spanish newspaper, suggested this morning that Friday's attacks could be the start of a campaign leading up to the anniversary.
While the human costs of these and other terrorist attacks are immeasurable, there is also another, less-acknowledged victim groups like ISIS, Al Qaeda, and Boko Haram: The global economy.
Fari Hamzei, founder of Hamzei Analytics, worries that Friday's attacks could be "breadcrumbs potentially leading to a major disorder" -- one which could have severe implications for global political and economic systems.
Direct Threat
Terrorist strikes naturally result in loss of life and property damage. The Organization for Economic Cooperation and Development estimated that the attack on the World Trade Center in 2001 cost $28 billion in property damage and $32 billion in insured losses.
Although the attacks on Friday were much smaller in scale than those that occurred on 9/11, both the France and Kuwait incidents involved significant structural damage. Furthermore, if Friday's murders were indeed a precursor to more strikes over the next several days, the consequences of direct damage could indeed prove significant on a larger scale.
The IMF wrote in 2005 that domestic uncertainty arising from terrorist activity can decrease consumer and investor confidence.
Security Apparatus
Governments who suffer terrorist attacks often respond with increased defense spending. But efforts to protect citizens may come with an economic tradeoff. According to the OECD, a 1 percent increase in public defense spending and a 0.5 percent increase in private security spending can lead to a 0.7 percent decline in output over five years by diverting money away from other, more productive activities.
In April, French President Francois Hollande announced plans to boost military spending by €3.8 billion, a 10 percent increase. Friday's beheading may presumably only heighten the French government's sensitivity to security issues.
Kuwait and Tunisia, which suffered the brunt of the day's casualties, will also likely pursue measures to increase internal security.
A Handicap On International Exchange
The OECD also says that tightened security can cripple international trade. Stronger security regulations often make trade more expensive by extending delivery times. After 9/11, vehicles crossing into the United States from Canada were stalled for 20 hours. Increased regulations instituted in the aftermath of the attacks led to permanently longer crossing times.
Alberto Abadie, a professor of public policy at Harvard's Kennedy School of Government, found that a "sharp rise in the risk of a terrorist attack" could reduce foreign direct investment by up to 5 percent. "Even if the terrorism attack isn't realized, the perception that one may occur may be having an anticipated impact on the economy," Abadie said in an interview.
In recent years, both France and Tunisia have suffered a multitude of terrorist threats.
France, one of the most frequent targets of radical Islamists in the developed world, has seen investment from U.S. companies chill in recent years, The Economist reported in 2014. Although high taxes have played a major role in this trend, the potential role of security threats cannot be ignored. Between 2010 and 2014, foreign direct investment in France tumbled from about $40 billion to only $6.5 billion.
Investment in Tunisia fell by a third between 2013 and 2014, from about $1.5 billion to $1 billion.
The Dollar And Other Currencies
Despite the overall negative economic consequences of terrorist activity, the dollar could be one of the few beneficiaries.
Kiana Danial, founder of Invest Diva, told Benzinga that "such geopolitical risk events typically play a role in bolstering the U.S. dollar...because of it's inversely correlated relationship with oil."
Fari Hamzei, founder of Hamzei Analytics, notes that the dollar also typically strengthens as capital flies from target countries to relative safe havens such as the United States.
In addition, Hamzei said that gold in target countries usually gets a boost following a terrorist incident: reduced confidence prompts people to "liquidate some of their assets" and transfer their wealth to "something more moveable."
Although she said an immediate impact on currency prices is not expected from Friday's news, Danial believes that the concurring incidents "could bring U.S. strike anticipation on ISIS, which could potentially change the landscape of the Middle East conflict."
Cause And Effect
Consequences aside, however, Hamzei sees economic grievances as being largely to blame for what he describes as an increase in global entropy.
When people are employed and thus busy, he said, they don't have time to worry about politics. But when people are "sitting around, they get politicized and get involved in group think. [ISIS] is group think."
Hamzei sees the divide between society's "haves and have-nots," as well as a growing segment of "disenfranchised people" around the world as major catalysts for disorder.
View Comments and Join the Discussion!
Posted-In: France International Monetary Fund KuwaitPolitics Top Stories Economics Exclusives General Best of Benzinga