Is Darden's REIT Announcement A Recipe For Success?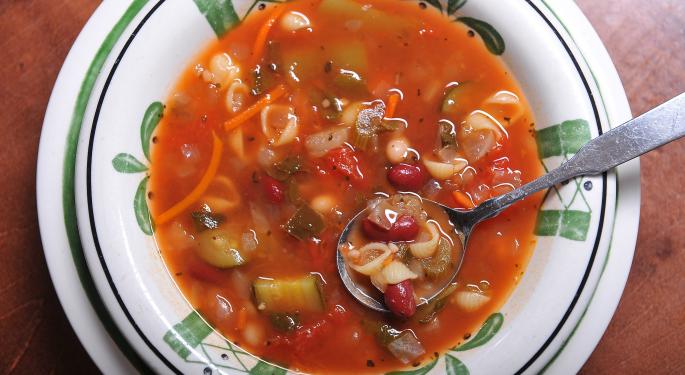 Next year in addition to soup, salad, seafood and breadsticks, there will be a new item on the shareholder menu at $8.7 billion cap Darden Restaurants, Inc. (NYSE: DRI).
Darden intends to spin-out a large percentage of its owned restaurants into a new REIT to be owned by shareholders.
Darden owns and operates more than 1,500 restaurants -- including its flagship Olive Garden brand -- that in the aggregate generate $6.8 billion in annual sales.
Strong Operating Results
On June 23, Darden announced its earnings for Q4 ended May 31, 2015 and FY 2014 results.
Related Link: Sell The News In Darden Restaurants
While Darden year-over-year results require asterisks because they were aided by a 53-week fiscal year, the sales figures were impressive nonetheless.


Source: Darden earnings release - June 23, 2015
Darden - REIT Announcement
Perhaps even more impressive for Darden shareholders was the announcement by management that it is pursuing real estate strategies intended to pay dividends and unlock shareholder value.
"This strategic real estate plan is the result of a comprehensive review of alternatives to best take advantage of our real estate portfolio," said CEO Gene Lee. "While a significant amount of work remains in order to proceed with the REIT Transaction, we believe this plan will result in a more optimized capital structure and will create long-term shareholder value.
"We appreciate the valuation differential between restaurant and real estate companies and are excited to create a new company, which we believe will unlock current value while growing through acquisitions of other properties."
This approach is vastly different from how previous management handled the Red Lobster real estate.
Back in May 2014, Darden shareholders were upset by how the sale of Red Lobster to Golden Gate Capital was handled. It resulted in American Realty Capital Properties Inc (NASDAQ: ARCP) acquiring ~500 Red Lobster sites in a sale-leaseback transaction with Golden Gate.
Ironically, ARCP shareholders weren't pleased with the deal either, mainly because of the large concentration in one net-lease tenant, particularly a restaurant brand with slowing same store sales.
Tale Of The Tape - Initial Positive Reaction
During the past 52-weeks Darden shares have traded in a range of $42.32 to $69.80 per share.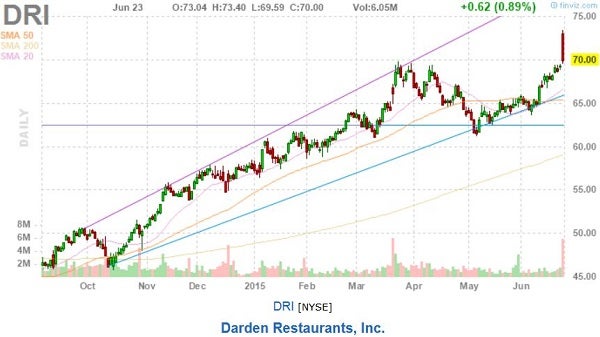 Darden shares spiked up at the open to $73.40, setting a new high, with shares priced at $70.00 mid-day, as of this writing.
Darden - REIT Overview
Darden will transfer ~430 owned restaurant properties to the new REIT (PropCo), and while Darden (OpCo) will lease-back "substantially all of the initial assets."
"The leases are expected to have attractive rent coverage ratios, fixed rent escalations and multiple renewal options at Darden's discretion."
Darden management believes that the new REIT will be "well positioned" to expand through acquiring the real estate of other businesses.
Third Party Sale-Leasebacks
Rather than just contribute all of its real estate assets to the new REIT, Darden is simultaneously pursuing another real estate strategy.
Darden intends to monetize ~75 store sites through individual sale-leaseback transactions, and currently has 30 under contract. Darden management believes that all of these transactions will be completed by the end of August, "…expects an average cash capitalization rate of approximately 5.5%."
These third-party transactions will aid analysts and investors in calculating the new REIT's NAV (net asset value).
Investor Takeaway
Notably, Darden intends to utilize ~$1 billion in proceeds from the REIT spin-out to retire debt, and intends to maintain its investment grade rating.
While the initial REIT may not be attractive to many investors due to the concentration risk in Darden as a sole tenant, existing shareholders will have a choice to hold onto the real estate assets, or sell their REIT shares.
Currently, Darden shares are paying a dividend distribution yielding ~3.1 percent. Income oriented investors should pay particular attention to the details regarding the anticipated PropCo REIT yield, in a rising interest rate environment.
Posted-In: M&A News REIT Retail Sales Asset Sales Stock Split Top Stories General Best of Benzinga
View Comments and Join the Discussion!