Benzinga's M&A Chatter for Monday June 22, 2015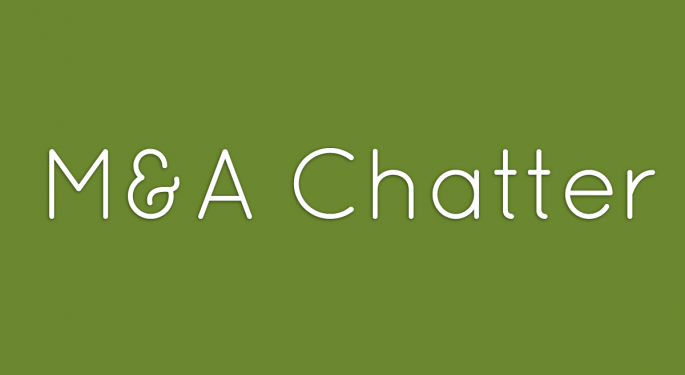 The following are the M&A deals, rumors and chatter circulating on Wall Street for Monday June 22, 2015:
Vimicro Receives Preliminary Non-Binding Proposal to Acquire Company for $13.50/ADS
The Offer:
Vimicro International Corporation (NASDAQ: VIMC) announced Monday, that its Board of Directors has received a non-binding proposal letter, dated June 21, 2015, from Dr. Zhonghan (John) Deng, the company's founder, chairman and CEO, and Co-CEO Zhaowei (Kevin) Jin, to acquire all of the outstanding ordinary shares of Vimicro not already owned by the buyer group for for $13.50 per ADS in cash.
The Board has formed a special committee to consider the proposal.
Vimicro shares closed at $12.10 on Monday, down $0.23.
Sequential Brands to Acquire Martha Stewart Living FOr $6.15/Share in Cash, Stock
The Deal:
Sequential Brands Group, Inc. (NASDAQ: SQBG) announced Friday, that it has agreed to acquire 100% of the outstanding shares of Martha Stewart Living Omnimedia, Inc. (NYSE: MSO) for $6.15 per share, including 50% in stock and 50% in cash. That is 13% lower than Friday's $6.98 closing price.
The acquisition is expected to close in the second half of 2015.
Martha Stewart Living shares fell 12% Monday, closing at $6.12.
Home Properties to be Acquired by Lone Star Funds for $75.23/Share in Cash
The Deal:
Home Properties, Inc. (NYSE: HME) announced Monday, that it has agreed to be acquired by an affiliate of Lone Star Funds, for $75.23 per share in cash. The deal is expected to close during Q4 of 2015.
Home Properties shares gained 1.76% Monday, to close at $74.01.
Sutron Agrees to be Acquired by Hach Company Affiliate for $8.50/Share
The Deal:
Sutron Corporation (NASDAQ: STRN) and Hach Company announced Monday, that an affiliate of Hach Company will acquire Sutron Corporation through a cash tender offer to acquire all outstanding shares of common stock of Sutron, for $8.50 per share in cash, for a total enterprise value of approximately $39 million, net of cash.
The deal is expected to be completed in Q3 of 2015.
Sutron shares gained 61% Monday, closing at $8.38.
View Comments and Join the Discussion!