Will Greece And The Euro Finally Reach A Deal?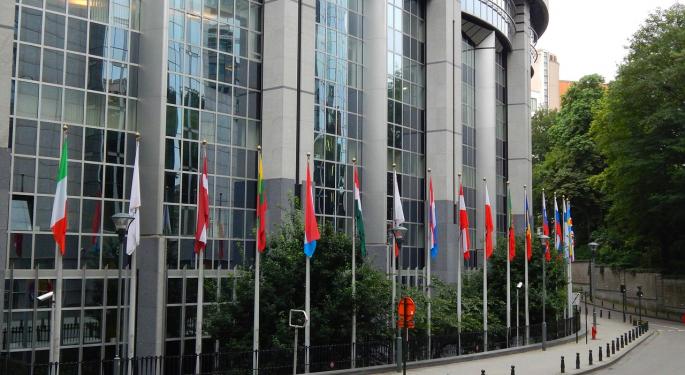 Could there finally be a light at the end of the tunnel? Signs are pointing toward the increasing likelihood of a deal between Greece and its eurozone creditors.
Greek Prime Minister Alexis Tsipras met with the heads of the Troika – the European Commission, European Central Bank and International Monetary Fund – on Monday in advance of an emergency summit aimed at closing debt talks.
Eurozone Chatter
Although Spanish finance minister Luis de Guindos said that "an agreement [would not be] possible today," many are optimistic about the immediate future.
European Commission president Jean-Claude Juncker called Monday's talks "a good basis for progress." EU Economic Commissioner Pierre Moscovici, meanwhile, is "convinced" that the parties will find mutually agreeable terms. Even the cautious de Guindos admitted that "there is the will for a good agreement."
Related Link: Anderson: "A Greece Induced Rally? Really??"
Most recently, eurogroup president Jeroen Dijsselbloem announced that he believed that the budget proposal presented by Greece at Monday's meeting were welcomed as positive and could provide the framework for a final agreement. According to him, Greece will begin working with its creditors this afternoon.
The one caveat to all of this inner-circle optimism is that none of the positive comments came from Angela Merkel other German officials, who serve as the de facto commanders of the eurozone.
German finance minister Wolfgang Schäuble was critical when Greece sent over its proposals for the meeting late Sunday evening only to revise them and bring a different document on Monday. "Without substantial proposals that can be examined seriously, we can't seriously prepare a euro summit."
Global Temperature
Global markets, nevertheless, seem to share the non-German bloc's hopefulness. The German, British, Japanese and Indian stock markets, based on the countries' primary indices, were all up more than a percent on Monday. The Athens Stock Exchange General Index was up 8 percent. The S&P 500 and Dow Jones Industrial Average were each in the green as well.
Greek Outlook
But Greece isn't out of the water just yet. In fact, Bank of Greece Governor Yannis Stournaras told the country's top private bankers to prepare for a "difficult day" on Tuesday if a deal were not finalized on Monday. The country's government will likely be forced to impose capital controls to halt the accelerating bank run that has been draining its financial system of liquidity for the past few weeks.
Whatever happens between Greece and its creditors during the next few days, many observers are confident of at least one thing: investors will soon have a clearer picture of the road ahead of the ailing country.
Image Credit: Public Domain
View Comments and Join the Discussion!
Posted-In: Alexis Tsipras Angela Merkel Athens Stock Exchange General IndexEurozone Global Top Stories Economics Markets Best of Benzinga