Benzinga's M&A Chatter for Tuesday May 5, 2015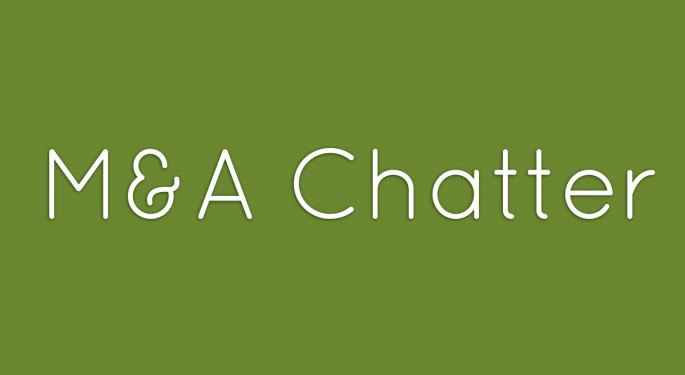 The following are the M&A deals, rumors and chatter circulating on Wall Street for Tuesday May 5, 2015:
TASER to Acquire MediaSolv
The Deal:
TASER International (NASDAQ: TASR) announced Tuesday, it has agreed to acquire MediaSolv Solutions Corp., for $8 million cash at close, plus up to $5 million of earn-outs for shareholders and employees, employee retention and relocation payments. MediaSolv provides interview room video, CCTV, in-car and on premises digital evidence management.
Taser shares rose more than 2.5% Tuesday, closing at $34.60.
PTC Announces to Purchase ColdLight for ~$105M
The Deal:
PTC (Nasdaq: PTC) today announced it has signed a definitive agreement to acquire ColdLight, a visionary in big data machine learning and predictive analytics, for approximately $105 million. The acquisition of ColdLight's Neuron automated predictive analytics platform will enrich PTC's technology portfolio and extend PTC's position as a leader in the Internet of Things market.
PTC shares lost 1% Tuesday, closing at $38.21.
Microsoft Said to Evaluate Possible Bid for Salesforce
The Rumor:
Shares of Salesforce.com (NYSE: CRM) spiked higher Tuesday, before being halted on a circuit-breaker, as Bloomberg reported that Microsoft (NASDAQ: MSFT) was evaluating a bid for the company led by CEO March Benioff. Another potential buyer had reportedly approached Salesforce prior to Microsoft. Sources say Salesforce is working with two investment banks to handle offers.
Microsoft is said not to currently be in talks with Salesforce and a deal is not imminent. Several companies, including IBM (NYSE: IBM) and Oracle (NYSE: ORCL), have been mentioned as potential buyers in recent weeks.
Spokesperson for Salesforce and Microsoft declined comment on the rumor.
Salesforce shares rose 1.61% Tuesday, closing at $72.75. Salesforce shares had traded as high as $76.18 prior to the halt.
Pitney Bowes to Acquire BorderFree for $14/Share
The Deal:
Pitney Bowes Inc. (NYSE: PBI) announced Tuesday, that it has signed a definitive agreement to acquire global ecommerce solutions company, Borderfree (NASDAQ: BRDR), for $14.00 per share in cash or approximately $395 million, net of expected cash and investments on Borderfree's balance sheet at the time of closing. The deal is expected to close in Q2 of 2015.
BorderFree shares rose more almost 5% during regular market hours on Tuesday and rose 102% after-hours.
View Comments and Join the Discussion!