Benzinga's M&A Chatter for Tuesday April 21, 2015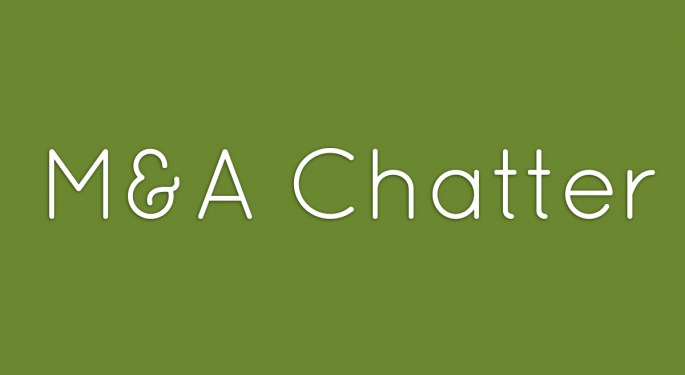 The following are the M&A deals, rumors and chatter circulating on Wall Street for Tuesday April 21, 2015:
Teva Bids $82/Share in Cash, Stock for Mylan
The Offer:
Teva Pharmaceutical Industries (NYSE: TEVA) announced Tuesday, it has proposed to acquire all of the outstanding shares of Mylan N.V. (NYSE: MYL) in a transaction valued at $82.00 per Mylan share, comprised of approximately 50% cash and 50% Teva stock. The deal was contingent on Mylan not completing its proposed acquisition of Perrigo Company plc (NYSE: PRGO), announced on April 8.
Late Tuesday, Reuters reported that top Mylan investors, including Pauslon & Co were pressing for Mylan's Board to consider the Teva proposal.
Separately, Perrigo's Board of Directors unanimously rejected the $205.00 per share offer from Mylan, indicating that it substantially undervalues the company and is not in the best interests of shareholders.
Mylan shares gained 9% Tuesday, closing at $74.07. Teva shares gained more than 1%, closing at $64.16. Perrigo shares lost 2.5% to close at $192.82
Hearing Renewed Unconfirmed Chatter of Potential Exxon Mobil Bid for Anadarko
The Rumor:
Shares of Anadarko Petroleum Corporation (NYSE: APC) rose early on Tuesday, on unconfirmed market chatter of potential bid from Exxon Mobil Corporation (NYSE: XOM). The price being mentioned was $120 per share, according to sources.
Last Friday, Reuters reported that Anadarko was considering selling its stake in its Mozambique gas assets, with Exxon Mobil the potential buyer.
Spokespersons for Anadarko and Exxon did not respond to requests for comment.
Anadarko Petroleum shares lost 1% Tuesday, closing at $92.56.
Hearing Unconfirmed Market Chatter of Ackman $2B Stake in Gilead; Ackman Said to Push for Acquisition of Vertex
The Rumor:
Shares of Gilead Sciences Inc. (NASDAQ: GILD) rose sharply early Tuesday and continued strong throughout the day, on unconfirmed market chatter of a potential $2 billion stake by activist investor Bill Ackman. That rumor followed a Bernstein note saying that Gilead should pursue the acquisition of Vertex Pharmaceuticals Incorporated (NASDAQ: VRTX).
Spokespersons for Gilead and Vertex were not available for comment.
Gilead shares rose 4.5% Tuesday, closing at $105.20. Vertex gained more than 5% to close at $132.20.
Deal Reporter Says Penn REIT Could be Next Target for Simon
The Rumor:
Shares of Pennsylvania Real Estate Investment Trust (NYSE: PEI) spiked higher Tuesday, following a Deal Reporter story that the REIT could be the next target for Simon Property Group (NYSE: SPG), according to sources. Simon failed last month in a $95.50 per share bid for The Macerich Company (NYSE: MAC).
A Simon spokesperson told Benzinga the company has no interest in acquiring Penn REIT. A spokesperson for Penn REIT declined comment.
Pennsylvania Real Estate Investment Trust (NYSE: PEI) gained 3.65% Tuesday, closing at $22.16.
View Comments and Join the Discussion!