Fuller House: Netflix Rides The Nostalgia Trolley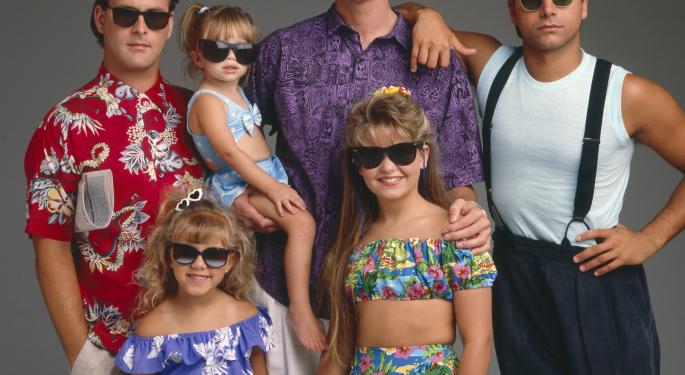 90s babies, rejoice. The popular family sitcom "Full House" will be rebooted on Netflix, Inc. (NASDAQ: NFLX). Once a top 10 show on television, the 13 episode reboot will follow a similar storyline to the original: a widower trying to raise a family whose siblings subsequently move in under one roof.
The series is scheduled to launch some time in 2016.
The original "Full House" ran from 1987-1995 and was a staple of ABC's Friday night programming; however, the show was certainly not without its critics.
This is not the first time Netflix has revived a once-loved show. FOX's 2003-2005 Emmy-award winning "Arrested Development" was brought back from the grave in 2013.
So, what do people think of the "Fuller House" announcement?
Some focused on the business of the deal:
Solid move by @netflix -- #FullHouse reboot will hook my generation! $NFLX #UncleJesse #DJTanner #FullerHouse #fb

— Brittany L. Umar (@brittanyumar) April 21, 2015
@WSJ I suspect all fund managers in their early to mid 30s will be taking substantial positions in $NFLX on the Full House news

— Peter Hans (@PeterHansHVST) April 21, 2015
We made this face too when we found out the 'Full House' revival is happening! #FullerHouse http://t.co/aiJNUtzEFw pic.twitter.com/GU9jsbhNld

— The View (@TheView) April 21, 2015
Others weren't very impressed:
This might be the most controversial thing I ever tweet: Full House was a corny, badly-written show. Awful.

— Tanya (@MissTanya) April 21, 2015
And former stars expressed their joy:
Is Full House trending?? Pics from my personal collection - pic.twitter.com/LhkGqFdtog

— John Stamos (@JohnStamos) April 21, 2015
Are you ready to be best friends again @candacecbure? #FullerHouse @netflix

— Andrea Barber (@andreabarber) April 21, 2015
We never stopped
View Comments and Join the Discussion!
Posted-In: Full House Fuller HouseNews Crowdsourcing Events General Best of Benzinga