National Storage IPO: This Week's Big Real Estate Story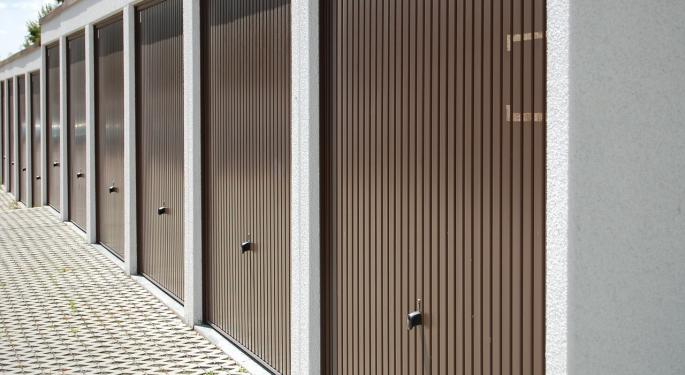 National Storage Affiliates Trust (NYSE: NSA) is poised to become the fifth publicly traded self-storage REIT and will trade under the ticker symbol NSA on the NYSE.
On April 13, National Storage Affiliates announced that it had commenced an initial public offering of 20,000,000 common shares and will grant underwriters a 30-day option to purchase up to an additional 3,000,000 common shares. NSA has set an initial public offering (IPO) price range for the offering at between $15.00 and $17.00 per share.
"The Company intends to use the proceeds of the offering to acquire 21 additional self-storage properties, repay certain indebtedness and for general corporate and working capital purposes," the announcement publicized.
Invest in IPO shares before the stock hits the market with ClickIPO. Check it out here
Related Link: Metro Storage LLC To Convert Warehouse To Self-Storage Facility In Northbrook, Illinois
5 Largest Self-Storage Landlords
Four publicly traded REITs and AMERCO (NASDAQ: UHAL), the parent company behind the U-Haul truck rental empire, have performed quite well relative to both the broader market and the equity REITs' asset class during the past two years.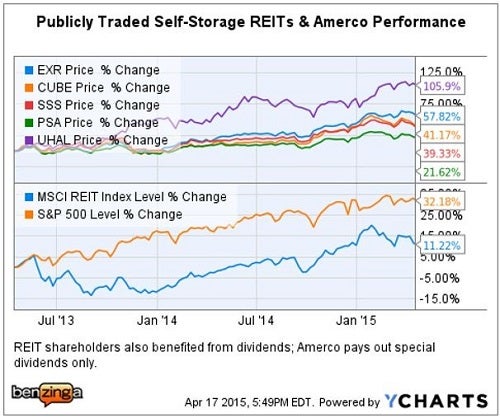 Public Storage (NYSE: PSA): $32.8 billion cap, dividend yield of approximately 3 percent
Extra Space Storage, Inc. (NYSE: EXR): $7.7 billion cap, dividend yield of approximately 2.85 percent
CubeSmart (NYSE: CUBE): $3.8 billion cap, dividend yield of approximately 2.8 percent
Sovran Self Storage Inc (NYSE: SSS): $3.2 billion cap, dividend yield of approximately 3.35 percent
Amerco: $6.34 billion cap, special cash dividend of $1.00 paid in March 2015; over 42 million square feet of owned/operated self-storage, in addition to several other UHAL lines of business
How Does Self-Storage Stack Up?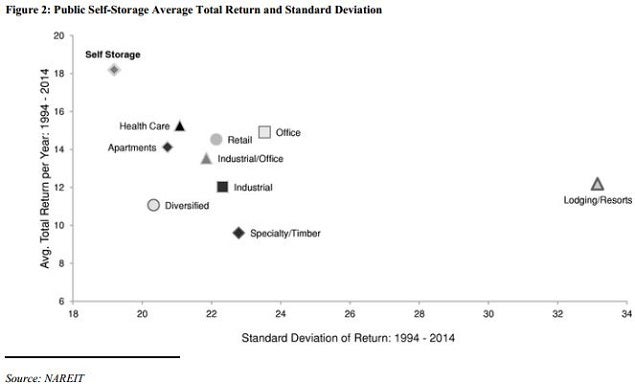 On a risk-adjusted basis, the self-storage REIT sub-sector has historically been the top asset class, according to NAREIT data.
Related Link: U-Haul Opens Its First Store IN Mussouri Capital
How Does NSA Compare?
Based upon an equity raise of 20 million shares at a mid-point of $16 per share, National Storage Affiliates will be the sixth largest U.S. self-storage company, initially raising approximately $320 million plus the underwriter greenshoe option.
National Storage Affiliates appears to be aptly named, as it utilizes an UPREIT structure to "roll up" a curated collection of best in class regional self-storage operators.
National Storage regional platform companies are referred to as PROs (participating regional operators), which currently consist of: Guardian, Move It, Northwest, Optivest and SecurCare, and will – upon the completion of this offering and the formation transactions – also include Storage Solutions.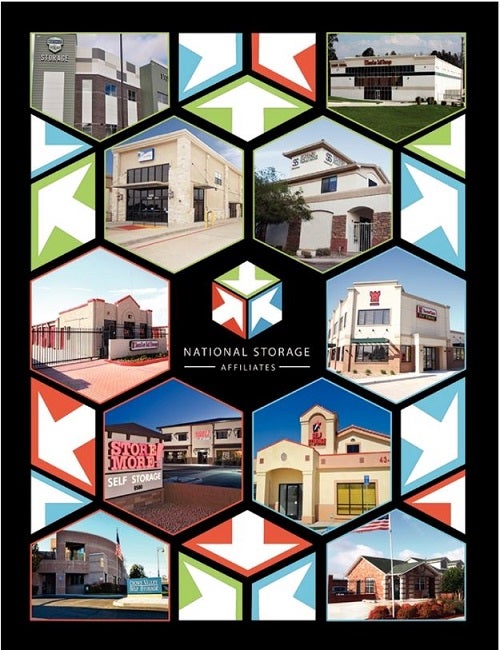 Source - NSA S-11
On a national level, NSA will be providing "marketing scale through the growth of GoStorageUnits.com as a common lead-generating platform utilized by all PROs." However, each PRO operator is also able to leverage local brand recognition in its marketing efforts.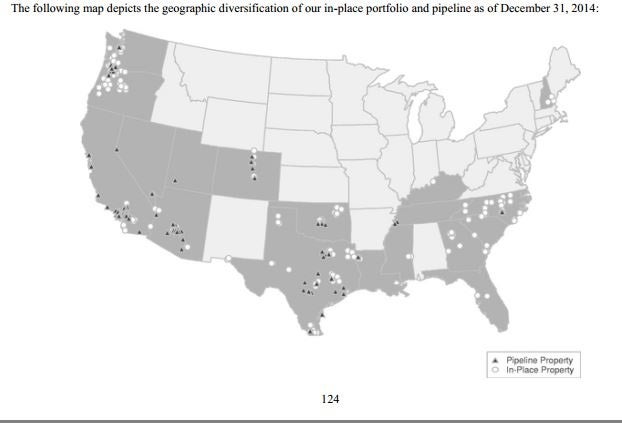 Source: NSA S-11
According to the NSA S-11 filing, the post-IPO company portfolio will comprise 246 properties with over 100,000 combined units located across 16 states and containing 13.7 million SF of rentable space, along with a potential acquisition pipeline of 115 properties.


Source: NSA S-11
Notably, overall occupancy was much lower than NSA's publicly traded REIT peers.
Related Link: Self-Storage REIT Expert: Expect Another Robust Year
Sell It/Run It Option
There is a have-your-cake-and-eat-it-too appeal to the NSA value proposition for private self-storage operators who want to continue to operate their portfolio of properties, by "leveraging the significant advantages of a lower cost of capital, up-sized internet marketing opportunities and reduced operating and administrative costs associated with NSA's economies of scale."
Additionally, this gives NSA affiliates, in the report's words, "the advantages of a tax-deferred transaction as well as an eventual exit strategy should they decide to retire from managing their portfolio."
Built-In Growth Pipeline
NSA has a right of first offer to acquire additional PRO properties within designated "shared MSAs" (metropolitan statistical areas). These PRO portfolio properties essentially include most of NSA's 115 property acquisition pipeline, with the exception of one property under contract.
While dividends can be a major attraction for most REIT investors, the fragmented and largely privately owned self-storage industry is ripe for continued consolidation and rapid growth for publicly traded REITs with access to capital markets.
NSA's relatively small market cap could help to move the needle through acquisitions, as long as they are accretive to earnings (FFO/AFFO).
Related Link: Fitch Affirms WFRBS 2012-C7
Investor Takeaway
While the UPREIT structure, marketing plan and pipeline flexibility appear to be make NSA attractive to PRO and targeted acquisition candidates, it remains to be seen how this strategy will reward common shareholders moving forward.
There are always significant risks in investing in any IPO, and investors should always seek professional help to evaluate these risks and investment suitability prior to any purchase.

Image Credit: Public Domain
Posted-In: Guardian Move It NAREITREIT IPOs Trading Ideas General Real Estate Best of Benzinga
View Comments and Join the Discussion!