A New Kind Of Space Race: US-Made Rocket Engine Development Is Underway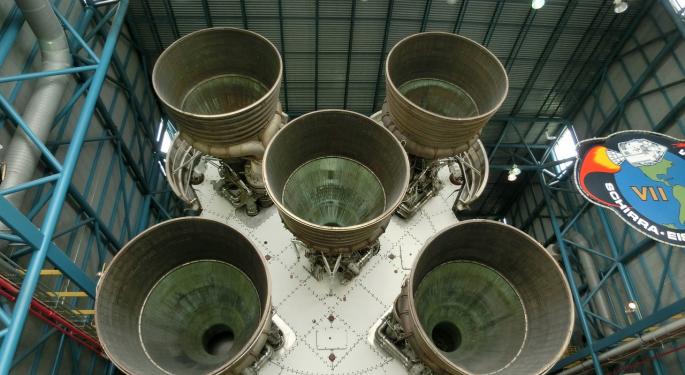 After Russia annexed Crimea last year, Western leaders agreed to squeeze Moscow's economy by enacting strict sanctions in protest of the move.
During that time, Congress passed a law designed to phase out the use of Russian-made engines for satellite launches. The terms of the new law dictate that no Russian-built engines can be used after 2019.
Air Force To Accept Proposals In The Coming Months
Congress' decision has put the Air Force in a difficult position, as its launch technology relies on a Russian RD-180 engine. Now, Air Force officials are preparing to hear new proposals for launch vehicles using American engines in an effort to abide by that law.
Related Link: Cutting Space Travel Costs With Reusable Engines
The Air Force is planning to request proposals for the project in May or June, once its budget has been finalized. Congress has allocated $220 million to the Air Force for spending in 2015.
A New Opportunity
Banning Russian-made engines could be great news for Elon Musk's company, Space Exploration Technology, as the military may be forced to hand the contract over.
At the moment, SpaceX is the only company with a U.S.-made engine that will be ready for launch by 2019. At the moment, United Launch Alliance, made up of both Lockheed Martin Corporation (NYSE: LMT) and Boeing Co (NYSE: BA), is responsible for almost all of the U.S.'s military and intelligence satellite launches, but the company's current launch vehicles depend on Russian engines.
Bad For Business
Many worry that the hard deadline is stifling competition between firms vying for government contracts, as ULA has been working to develop its own U.S.-powered rocket, but the company probably won't have its option ready in time.
Although ULA says its rocket may be available for launch in 2019, it likely won't be certified for Air Force usage until 2022 at the earliest.

Image Credit: Public Domain
Posted-In: Crimea Elon Musk RD-180 engine RussiaPolitics Top Stories Tech General Best of Benzinga
View Comments and Join the Discussion!