Benzinga's M&A Chatter for Tuesday April 14, 2015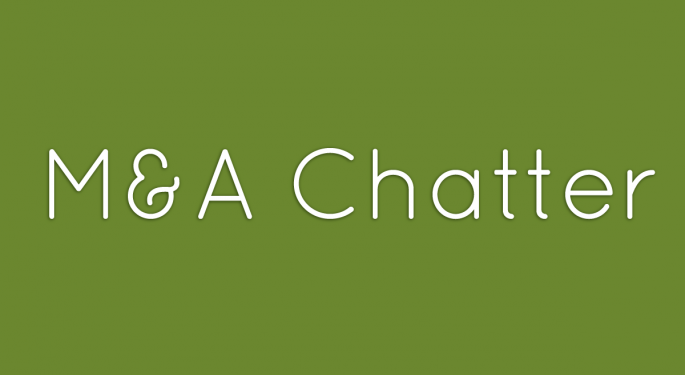 The following are the M&A deals, rumors and chatter circulating on Wall Street for Tuesday April 14, 2015:
Nokia/Alcatel-Lucent Confirm Advanced Talks for Potential Full Combination
The Talks:
Nokia (NYSE: NOK) and Alcatel-Lucent (NYSE: ALU) confirmed Tuesday, that they are in advanced talks regarding a potential full combination. A deal would take the form of a public exchange offer by Nokia for Alcatel-Lucent.
< ahref="http://www.bloomberg.com/news/articles/2015-04-13/nokia-said-in-advanced-talks-to-acquire-alcatel-lucent-assets">Bloomberg reported Monday, that Nokia (NYSE: NOK) was in talks to acquire ALU assets, according to sources. A deal could be announced as early as this week.
Alcatel-Lucent shares gained 13% Tuesday, closing at $4.93. Nokia shares lost 4% to close at $7.96.
Webster Capital to Acquire Dover Saddlery for $8.50/Share
The Deal:
Dover Saddlery, Inc. (NASDAQ: DOVR) announced Tuesday, that a company formed by Webster Capital will acquire all of the outstanding shares of Dover common stock for $8.50 per share in cash and take Dover private. Dover's stockholders must vote to approve the transaction.
The deal is expected to close in Q2 of FY 2015.
Dover Saddlery shares gained 67% Tuesday, closing at $8.35.
Report of Merger Talks between 58.com and Ganji.com
The Rumor:
58.com (NYSE: WUBA) and Ganji.com, signed and MoU on March 14, according to sources as reported by FT. A deal could be announced as soon as Wednesday on a merger of the two onlline classified companies, according to one source.
Marbridge Daily had reported on Monday, that Ganji.com had rejected an approach from 58.com. Another rumor mentioned Baidu (NYSE: BIDU) as the potential acquirer.
Spokespersons for 58.com and Gangi.com were not immediately available for comment.
58.com shares gained 33% Tuesday, closing at $67.87.
Venezuela's PDVSA Reportedly Offers to Buy Harvest Natural Resources Stake in Petrodelta JV
The Rumor:
Shares of Harvest Natural Resources Inc. (NYSE: HNR) spiked sharply higher Tuesday, on a Reuters report that Venezuela's state oil company, PDVSA, has offered to buy HNR's stake in the Petrodelta joint venture, a according to a source. Harvest shares were briefly halted on a circuit-breaker.
Reuters reported that the source would not comment on the terms of the potential deal. Harvest Natural Resources said in an 8K, after the close Tuesday, that intermittent discussions with PDVSA have not led to any offer or terms.
Harvest Natural Resources shares gained 129% Tuesday, closing at $1.01.
Gaming and Leisure Said to Raise Offer for Pinnacle Entertainment's Real Estate
The Rumor:
Shares of Pinnacle Entertainment Inc. (NYSE: PNK) initially spiked higher Tuesday, on a report from Dow Jones that Gaming and Leisure (NASDAQ: GLPI) was raising its offer to acquire Pinnacle's real estate, in deal that would value Pinnacle at just over $40 per share. GLPI stated this was their best and final offer, according to sources.
Pinnacle announced a plan in November to split the company into two public companies, in 2016: a REIT and a company containing its casino operations.
Pinnacle reportedly has until Thursday to respond to the GLPI offer.
Pinnacle Entertainment shares fell sharply, following the initial spike and lost 6% Tuesday, closing at $34.11.
EXOR Bids $130/Share in Cash for PartnerRe
The Offer:
EXOR submitted a written proposal on Tuesday, to the Board of Directors of PartnerRe Ltd. (NYSE: PRE) to acquire 100% of the common shares of the company for $130.00 per share in cash. The bid values PartnerRe at $6.4 billion.
EXOR expects to close the deal in 2015, with the cooperation of the PartnerRe Board.
PartnerRe acknowledged it had received the proposal from EXOR and would announce its position regarding the EXOR proposal following its review, to be completed in due course.
PartnerRe had announced on January 25, 2015 it was combining with AXIS Capital in an all-stock deal.
PartnerRe shares rose 8.5% Tuesday, closing at $129.25.
View Comments and Join the Discussion!