IPO Outlook: More Solar, More IPOs, More Fun This Week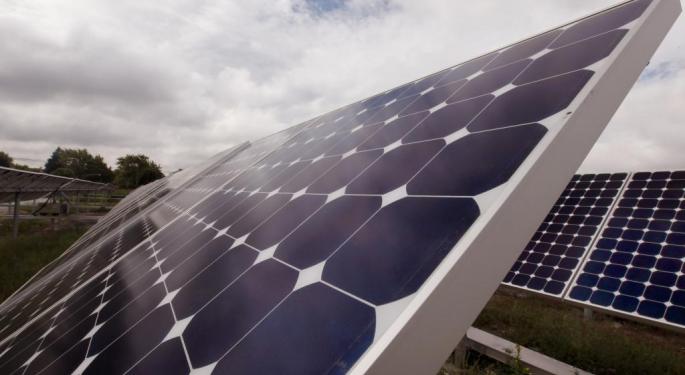 Finally, it looks like the IPO market is back on track with IPOs ranging from biotech to tech to financials. Investors finally have something to get excited about.
SolarEdge Technologies (NASDAQ: SEDG) looks to raise $119 million with 7 million shares priced between $16 and $18 per share with a total valuation of $648 million. Founded in 2006 and based in Israel, SolarEdge makes systems that improve the generation of energy in solar panels.
The company is a new entrant into a competitive, changing solar industry. The company is focused on improving how power is harvested and directed in a solar PV (photovoltaic) system.
Market Opportunity
Due to a combination of rising energy costs and environmental concerns regarding traditional methods of electricity generation, consumers are looking to renewable energy as a viable alternative source for the future. Energy research firm IHS estimates that the global solar market is expected to have a compounded annual growth rate (CAGR) of 14.6 percent with growth PV inverter installations in key residential markets such as the U.S. and China to have respective CAGR's of 19.0 percent and 11.3 percent.
SolarEdge created a solution to improve how power is harvested and directed in a solar PV system. The company creates DC (direct current) optimized inverter systems for solar PV installations which includes power optimizers, inverters and our cloud-based monitoring software.
SolarEdge's system maximizes power generated, lowers the cost of energy produced, and provides higher reliability in residential, commercial, and small utility scale installations. It also features enhanced safety features to protect installers, electricians and firefighters.
Since the company began commercializing shipments, its products have been installed in 73 countries with solar PV systems.
SolarEge sells its products to big installer companies such as SolarCity (backed by Tesla), Vivint Solar (NASDAQ: VSLR) and SolarRun. SolarCity (NASDAQ: SCTY) makes up 19 percent of SolarEdge's revenue and recently went public December 2012 at $8 a share and currently trades above $49.
Financial Information
Revenue has grown by 141.5 percent or $82.2 million. For the six months ending December 2013, SolarEdge's revenue grew 141.5 percent, or $82.2 million, from $58.0 million to $140 million for the same time period in 2014. The increase is attributed to a rise in the number of systems sold in the U.S. and Europe.
Through February 2015, the company shipped 5.1 million power optimizers and 222,000 inverters. Gross margins for the period improved from 12.0 percent to 21.3 percent as a result of lowered production costs, warranty expenses and provisions, and economies of scale in costs related to personnel, support, and operations.
SolarEdge crossed into the black during the above time period with a net income of $5.9 million compared to a net loss of $13.1 million a year earlier. Even though its net income and cash from operating activity ($9.4 million) was positive, the company has a history of loss and negative cash flow from operating activity. Its accumulated deficit is $135.2 million with net losses of $28.2 million in 2013 and $21.4 million at the end of 2014.
Fiscal responsibility seems to be important to the company, paying off three main debt obligations: a $20 million and a $40 million revolving line of credit, and term loans. The $20 million revolver has been paid off and only $5 million remains outstanding on the $40 million credit line. The term loans have been being steadily paid down as well.
Competition
The cost of solar panels are near the cheapest levels and the solar product market is highly competitive. SolarEdge competes with traditional inverters and DC optimizers. Its main competitors Enphase Energy (NASDAQ: ENPH), SMA Solar Technology, and ABB (NYSE: ABB) all recently released microinverter products. Low-cost Asian makers have also initiated plans to ship or are currently shipping products. SolarEdge believes its solution is cheaper, maximizes power and gives great reliability.
Enphase had only 1.55 million microinverter shipments when it went public in 2012 compared to SolarEdge's 5.1 million units. Enphase's sales at the time of its IPO were $149.5 million while SolarEdge posted a similar $140.2 million in revenue recently. SolarEdge's customer, SolarCity, could be a catalyst to helping the company gain a foothold in the U.S.
Conclusion and Pricing Info
A successful IPO will allow SolarEdge to invest more capital into R&D and launch new products into the market, which may give it a competitive edge over its peers in gaining market share both domestically and abroad.
Proceeds will be used for general corporate purposes, which includes working capital and expanding into other markets.
Underwriters for the offering include Goldman, Sachs and Co., Deutsche Bank Securities, and Needham & Company. The 7.0 million shares offered are expected to price from a range of $16 to $18.
Other Offerings
Tuesday, March 24
Tantech Holdings (NASDAQ: TANH): 3.2 million shares expect to price between $4 to $6 through ViewTrade Securities.
Thursday, March 26
Cellectis (NASDAQ: CLLS): 3.5 million shares expect to price between $36.83 through BofA and Jeffries.
Viewray (NASDAQ: VRAY): 4.0 million shares expect to price between $12 to $14 through Cowen and Company, Stifel, and BTIG.
SolarEdge Technologies (NASDAQ: SEGD): 7.0 million shares expect to price between $16 to $18 through Goldman, Sachs and Co., Deutsche Bank Securities, and Needham & Company.
Friday, March 27
Jernigan Capital Inc. (NYSE: JCAP): 5.0 million shares expect to price between $19 to $21 through Raymond James, Baird, and Wunderlich Securities.
Timing Uncertain
Franklin Financial Network (NYSE: FSB): 2.4 million shares expect to price between $24 to $27 through BofA Merrill Lynch.
Valeritas (NASDAQ: JCAP): 5.0 million shares expect to price between $14 to $16 through Piper Jaffray and Leerink Partners.
WOWO (NASDAQ: WOWO): 6.0 million shares expect to price between $9 to $11 through Axiom Capital.
Disclosure: The author holds no securities at the time of writing.
Posted-In: Deutsche Bank Goldman Sachs IPO OutlookNews Previews IPOs Top Stories Trading Ideas Best of Benzinga
View Comments and Join the Discussion!