Conflicting Data Makes Rate Increase Difficult To Predict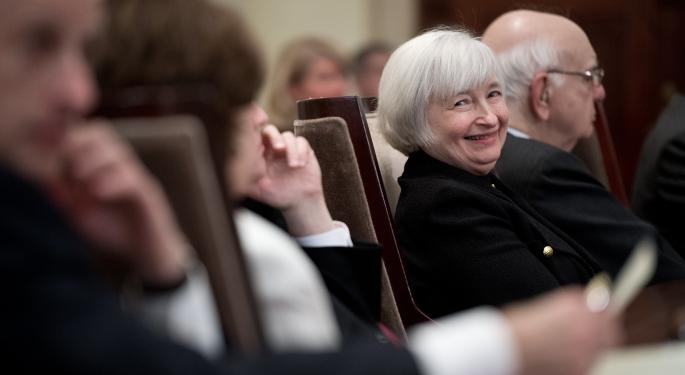 This month's Federal Reserve policy meeting is being closely watched by traders hoping for some clues about the bank's plans for a rate hike in the coming months.
Most expect the U.S. central bank to raise rates before the end of 2015, but conflicting data has some economists pushing back their estimates for a rate hike to much later in the year.
Mixed Signals
Encouraging figures from the Labor Department and improved consumer spending have been touted as reason a rate increase is a natural step for the U.S.
However recent reports have suggested a shift in the U.S.' economic progress; industrial production, retail sales and housing starts data out this month all pointed to sluggish first quarter growth.
Is The Data Worth Considering?
With the latest data suggesting the U.S. recovery may not be as strong as analysts were hoping, many are wondering if the Fed will push back its plans for a rate hike. Some say the weakness in economic data is the result of harsh winter weather and a stronger dollar, but others worry that it is a signal of a downward trend.
Related Link: Peter Schiff Says QE4 Is 'Where We Are Headed'
Fed Meeting: What To Watch
On Wednesday afternoon, the bank is set to release its economic forecast and issue a statement regarding U.S. monetary policy. Investors will be focused on whether or not the bank revises its January statement, which said the bank would be "patient in beginning to normalize the stance of monetary policy."
Patience Is Key
Ahead of the meeting, markets were abuzz with speculation as to whether or not the bank would include the word "patient" in its statement. Many believe that the removal of the word 'patient' signals a willingness to act sooner rather than later and could mean a rate hike in June.
Posted-In: Federal Reserve Janet YellenPreviews Top Stories Federal Reserve Trading Ideas Best of Benzinga
View Comments and Join the Discussion!