Apple Takes On TV Streaming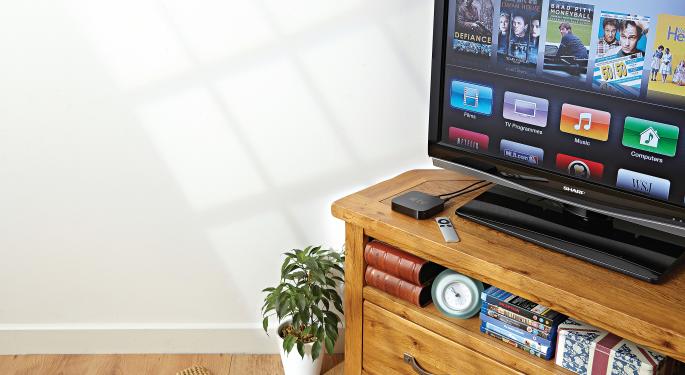 Last year, Apple Inc. (NASDAQ: AAPL) was in talks with Comcast Corporation (NASDAQ: CMCSA) about creating TV streaming platform together. The deal, which would have combined Apple's Apple TV technology with Comcast's high-speed Internet connection, crumbled and the two had a falling out after Apple claimed that Comcast had been dragging its feet through the process while working on its own streaming hardware.
Onward And Upward
With the Comcast ordeal behind them, executives at Apple are pushing forward into the TV streaming arena with the company's own service, set for an autumn release. Apple's programmers told the Wall Street Journal that they are planning to unveil the new service in the summer and make it available for consumers in September 2015.
Premium Price Tag
As is typical with anything Apple, the service is expected to carry a higher price tag than competitors' offerings. An Apple subscription will likely cost between $30 and $40 per month, compared to Dish Network's $20 per month Sling TV streaming service.
Related Link: Is Jay Z Taking On Apple? Not Quite
NBC A No-Go
Apple's streaming service will include major networks like ABC, CBS and Fox, but NBCUniversal and all channels falling under that umbrella are notably missing from the roster. That's because Comcast owns NBCUniversal, and the two haven't worked out their differences yet.
The Final Touches
The major draw for Apple's streaming service will be availability. The programming will be made available on any Apple device including iPhones and iPads. With several months to go before the service is made public, Apple is working to secure final network contracts and beef up its offerings. The company is also hoping to make entire seasons of past shows available for download from the cloud, but licensing negotiations are expected to be difficult as companies like Netflix (NASDAQ: NFLX) have already secured the rights to such content.
Posted-In: Apple TV cable nbcuniversal Sling TV Wall Street JournalNews Tech Media Best of Benzinga
View Comments and Join the Discussion!